Ballet Star Misty Copeland 'Toons Up for PBS Kids' 'Peg + Cat' (VIDEO)
She's absolutely everywhere. Misty Copeland, the first African-American woman to rise to the position of principal dancer with the American Ballet Theatre, is the subject of photographer Gregg Delman's new coffee-table book, Misty Copeland. She's also among the stars of the upcoming Disney film The Nutcracker and the Four Realms and has launched her own dancewear line, Égal. But it's one of her smaller projects that could pack the biggest punch. On October 19, she plays herself on the PBS Kids hit Peg + Cat (check local listings at pbs.org) in an episode called "The Dance Problem." The theme: how a wannabe dancer overcomes adversity. And it just might change some lives.
What if you could have watched this Peg + Cat episode when you were young?
It would have meant the world! No dancers looked like me when I was growing up, so I connected with female singers. Music was a big thing in our household—soul, pop, R&B. Mariah Carey, a biracial woman, was a huge influence on 7-year-old me, and the only public figure I felt I really connected with. She kind of looked like me. When I watched Mariah, I could see there was a place for me in the world. All children need that. They need to see themselves in others. To have a brown ballerina representing the dance world in a cartoon series kids love is an incredibly cool thing. [Laughs] I mean, I just can't believe it!
How's it feel to see yourself animated?
It's been very emotional, and also very strange because here I am expressing myself only through my voice. I actually attempt to sing. This is not what I do or who I am! My entire life has been about physical expression. To have ballet lead me to all these new and different places is pretty incredible.
Yet a career in dance can also be brutal and short. Do you really recommend it to youngsters?
I know so many professional dancers who say, "This is not the life I want for my child! I will never let my kid dance!" And I always have to remind them about all the amazing things a life in dance has taught us—sacrifice, discipline, commitment. Last year I went to Rwanda with the program MindLeaps, where we worked with street kids who'd never been to school and whose communication skills were zero. We introduced them to music and movement, and the development of their cognitive skills was astounding.
You got married this past summer. If you have kids, will they go into dance?
They will take dance class and they will learn an instrument. I will be very adamant about that. I would never force them to become professionals. It's way too difficult. [Laughs] But, trust me, they will dance.
Check out this exclusive clip of Misty Copeland in action on Peg + Cat: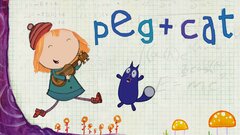 Powered by