'The Odd Couple': Oscar and Felix Continue Romantic Struggles in Season 3
Shortly after filming began on Season 3 of The Odd Couple, the CBS comedy starring Matthew Perry and Thomas Lennon as famously mismatched roommates Oscar and Felix, the cast and crew were confronted with a situation that's as unfunny as it gets: the death of Garry Marshall.
The 81-year-old industry legend had helmed the original incarnation of the TV series, featuring Tony Randall and Jack Klugman, and was serving as an executive consultant—as well as playing Oscar's dad—on the reboot. "Coming into this, I never knew how much he would be around," says Lennon. "Well, he was around tons. Every taping, every table read. You know how Dumbo has that feather that makes him feel like he can fly? Garry basically became my Dumbo feather."
RELATED: How Garry Marshall Took Happy Days and The Odd Couple From Sleepy to Classic
The passing of Marshall's character will be addressed on an upcoming tribute episode, but in the meantime, the show must go on. In the premiere, both men will find themselves fumbling their respective relationships. With his girlfriend, Emily (Lindsay Sloane), off in London for a three-month internship, the high-strung Felix is coming increasingly unglued. "I sort of have a Tom-Hanks-in-Cast-Away vibe going on," Lennon says.
For his part, the perpetually juvenile Oscar is attempting—with trademark sloppiness—to make a go of it with sophisticated single mom Charlotte (Teri Hatcher). Luckily for the struggling Romeos, they'll get a major romantic assist in the form of a swoon-worthy cameo from R&B vocalists Boyz II Men. "There were a lot of hearts fluttering on set," confirms Lennon. "And it was Lindsay Sloane's birthday, so a big cake was brought out and the group serenaded her—but then everyone else started chiming in. It was like, 'Hey, guys, stop ruining this by singing over Boyz II Men!'"
The Odd Couple, Season Premiere, Monday, October 17, 9:30/8:30c, CBS.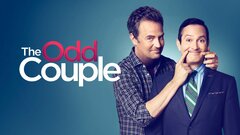 Powered by