'It's The Great Pumpkin, Charlie Brown' Turns 50
After five decades, poor Linus Van Pelt is still waiting in that pumpkin patch. Good grief, indeed!
It's the Great Pumpkin, Charlie Brown, Charles Schulz's Peanuts special that turned a gourd into an icon, is honoring its 50th year with anniversary airings (Wednesday, Oct. 19, 8/7c, and Friday, Oct. 28, 8/7c, ABC), and executive producer Lee Mendelson thinks the milestone is worthy of the celebration. "It's certainly as popular as [A Charlie Brown Christmas], and I think Mr. Schulz liked it just as much," he says. "In some respects, it's got strengths that the Christmas special doesn't. It has the vibrant fall colors, it's the first time Snoopy flew his doghouse. It was the first time for a lot of things in cartooning."
RELATED: Here's Some Good News, Charlie Brown! The Peanuts Gang Swings Onto Boomerang
Peanuts creator Charles Schulz developed
It's the Great Pumpkin, Charlie Brown
after CBS asked for "a blockbuster," says exec producer Mendelson.
Debuting October 27, 1966, on CBS, the tale of tricks or treats, Red Baron battles and, of course, Linus and Sally's failed stakeout of the Great Pumpkin was also Lucy's first time pulling a football away from Charlie Brown on air, as well as the first (and hopefully last!) time a child was given a rock while trick-or-treating.
"I got upset about that," confesses Mendelson, recalling Chuck's sad bounty. "When Charles suggested it, I said, 'That's kind of cruel,' but [animator] Bill Melendez was laughing with Schulz and said, 'Let's do it two or three times!'" Mendelson says Schulz was trying to impart a life lesson. "It bothered him that at Christmas so many kids didn't get any gifts or maybe got one gift because their family didn't have any money. He was trying to say, 'Kids, you're going to survive even if you don't get what you want.'"
Snoopy as the the World War I flying ace.
Pumpkin rose from CBS's desire to repeat the success of 1965's A Charlie Brown Christmas. Since Schulz had already introduced Linus's elusive hero in the comic strips, he decided to focus on the Great Pumpkin. "It was that simple," Mendelson says. Most of the child voice actors from the Yule outing returned, as did composer Vince Guaraldi, who Mendelson feels was "essential" to bringing the seasonal story to life. "His music really helped create the atmosphere."
And now, all these years later, Great Pumpkin is essential viewing and could inspire a new tradition: Peanuts Worldwide and The Maize Inc. have teamed up to create 90 custom-designed Peanuts-themed corn mazes on farms across the U.S. and Canada just in time for Halloween. It may not be as cool as an all-nighter in a pumpkin patch, but it still rocks.
The listing for the show in
TV Guide Magazine
for its 1966 debut airing.
It's the Great Pumpkin, Charlie Brown, Wednesday, October 19, 8/7c, ABC.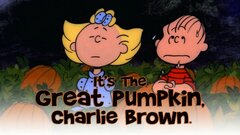 Powered by