'Ash vs. Evil Dead': TV Legend Lee Majors on Playing Ash's Dead-beat Dad
With Season 2 of Ash vs. Evil Dead digging into Ash's (Bruce Campbell) past, the producers knew that it would take a bionic effort to find an actor tough enough to play his estranged father, Brock, a skirt-chasing drinker who hates his son as much as he loves the ladies.
RELATED: Ash vs. Evil Dead Promises More Undead Chaos in Season 2
So wisely, they went straight to The Six Million Dollar Man, Lee Majors. "They asked me if I'd be interested and I said, 'Well, let me look at a couple of the first episodes of the first season,'" recalls Majors. "I sat down and watched the pilot, and then I watched all 10 of them in a row! I couldn't believe you could do horror with such fun!"
Nor could the former Fall Guy believe what Ash could get away with. "My shows, hell, we couldn't even dab a little blood on if it was ABC or NBC," the 77-year-old actor says. "We only had three networks when I did a lot of my series, and they wouldn't let you put blood on anything!"
RELATED: Ash vs. Evil Dead: First Look at Pablo Being Held Captive By Ruby (PHOTO)
Now, he's soaking in the red stuff (wait till Episode 3!) and basking in the fun of trading father-son insults as the Williams men take on all sorts of demons. "Bruce has such a sense of humor, so we got along great," Majors raves like a proud papa. "He is very underrated as an actor."
Ash vs. Evil Dead, Season Premiere, Sunday, October 2, 8/7c, Starz.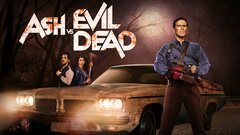 Powered by