'Ash vs. Evil Dead': First Look at Pablo Being Held Captive By Ruby (PHOTO)
Guess we're not the only ones hanging out until the October return of Starz's demonically fun scarefest Ash vs. Evil Dead. In Season 2 of the gore-soaked follow-up to the cult horror-movie hits, Pablo (Ray Santiago) gets yet another lesson in what it means to be the loyal sidekick to demon-hunting Ash (Bruce Campbell) when he runs afoul of Lucy Lawless's vindictive Ruby.
RELATED: First Look: Ash vs. Evil Dead Throws a Killer Kegger (PHOTO)
"Amongst the many ways Pablo is tortured is by spending a day hog-tied, suspended in the air," says Santiago, who literally hung in there during the filming of Episode 2. Santiago also praised acting with "the amazing Lucy 'Flawless.' The crew wanted to bring me down in between takes, but I refused," he says. "It's the Evil Dead, man … I got this!"
Ash vs. Evil Dead, Returns in October, Starz.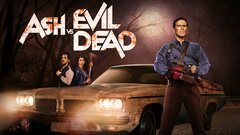 Powered by