'Ash vs. Evil Dead' Promises More Undead Chaos in Season 2
Get ready for a real kick in the Ash!
Season 2 of Starz's delightfully demented horror-com is "pretty off the hook," promises star Bruce Campbell, who plays Ash Williams, the square-jawed smart-ass who's been battling the unliving since 1981's cult hit movie The Evil Dead. Filled with flying eyeballs, cheesy catchphrases and super lo-fi effects, the Evil Dead trilogy—including 1987's Evil Dead II and '92's Army of Darkness—rose to cult status "when we were young and inexperienced and had no budget," recalls Campbell.
Nowadays, he's happily raising costlier, but still campy, hell on TV with the original franchise's director, Sam Raimi, and executive producer Rob Tapert. The three old friends are partners on the series, which was renewed for its second season before the first even aired last year. "This is a tricky show to produce," confesses Tapert, who says he and Raimi have developed "a trademark secret" for balancing jokes and jumps during their time dealing with the Dead. "Even though it's just half an hour, we try to pack every episode with as many horrific gags and jokes each minute can handle. The first season was about building a machine that could churn out 10 episodes of this melee, and now that the infrastructure is there, we were able to up the ante in Season 2."
RELATED: Ash vs. Evil Dead Throws a Killer Kegger (PHOTO)
In addition to more action sequences and less restraint with the bloodletting (Episode 2 finds Ash lodged within the anal cavity of a reanimated and genitally blessed cadaver), the emotional stakes are being raised as the self-obsessed hero and his sidekicks—Pablo (Ray Santiago) and Kelly (Dana DeLorenzo)—make their way to Ash's hometown of Elk Grove, Michigan. Far from the small-town boy who made good, "Ashy Slashy," as he's now called in those parts, is a pariah who fled in disgrace following the tragedies of the Dead films. Even his lothario father, Brock (The Six Million Dollar Man icon Lee Majors), is happy to be rid of the kid who allegedly went nuts and killed all of his pals in that cabin in the woods years ago.
"There are no homecoming parades," Campbell says with a laugh of the less-than-welcoming locals—with the exception of childhood best bud Chet (Ted Raimi, Sam's brother) and Linda (Michelle Hurd), Ash's high school sweetheart. "He's lucky that [the rest of them] don't take him out."
And they're lucky he cared to come back at all. When we first rejoin the bed-hopping Ash, he's living it up in Jacksonville with Pablo and Kelly, free from their demon-hunting duties now that foe-slash-ally Ruby (Lucy Lawless) is off herding the forces of evil she herself unleashed by authoring the story's central Book of the Dead, the Necronomicon. When a Deadite attack on their latest kegger clues them into the fact that Ruby's out-of-control spawn are heading to Ash's old hood, it's time for a road trip. And maybe even a little personal growth. "We wanted an opportunity to answer some of the questions about Ash's backstory, to paint the picture of the environment that made Ash the man that he is," Tapert says. "Ash will need to face the figurative demons of his past in order to defeat the literal demons of his present."
That theme also applies to Ruby, who takes on her diabolical ex (Joel Tobeck) while trying to make nice with Team Ash. "It's a pretty uncomfortable fit at first. Pablo and Kelly have an abiding mistrust of the woman who kicked off the Deadite plague," says Lawless (Tapert's real-life wife). "Ruby learns to be human through her interactions with them [and] starts to care about these schmoes. In fact, she and Kelly go on a bit of a rampage together!" As the two ladies light it up and Kelly embraces her inner badass, the previously goofy Pablo will get a little darker. It seems his literal face-off with the skin-covered Necronomicon last season has bestowed him with some mystical abilities. "We are going to learn that he's more than just the sidekick," Campbell teases. "His uncle was a shaman, and I think we'll start seeing that Pablo's got a knack for this [demon] stuff."
RELATED: Lee Majors Guest Stars as Ash's Dead-beat Dad
Still, it's Ash who will have to handle the heavy lifting when it comes to combatting the underworld. Thankfully, it sounds like the 58-year-old action hero still has it. "The Chin, as Bruce insists we call him, has never been more vital, handsome or sexy, whereas Ash is the same racist, misogynist pig we've always known and loved," confirms Lawless with a cheekiness befitting this scarefest that refuses to take itself seriously. "And we still have to rely on this schmuck to save the world…so brace yourselves, kids, it's gonna be a bumpy night."
And if you're as excited as we are for the groovy new season of this must-watch horror hoot, here's an exclusive look at how Ash and the gang take care of the Deadites to hold you over until Sunday!
Ash vs. Evil Dead, Season Premiere, Sunday, October 2, 8/7c, Starz.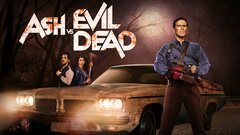 Powered by