Gabrielle Union on What Dwyane Wade Thinks of her Love Scenes in 'L.A.'s Finest'
Fox's L.A.'s Finest was cancelled last fall, but apparently that hasn't stopped star Gabrielle Union's husband, Dwyane Wade, from thinking about her onscreen love scenes.
In a recent interview with ESPN's Jalen Rose on his podcast Renaissance Man, Union says that before an episode — the show, which also stars Jessica Alba, is available to stream for free on Fox Now — Wade asks, "'Are you naked in this one?'" And to be honest, she says, she's not always sure.
The actress has a daughter Kaavia, 2, with the ex-NBA star, and is stepmom to his children, Zaire, 18, Zaya, 13, and Xavier, 7. Some of her racier scenes also embarrass her kids, she says: "The older boys were like: 'I'm getting murdered at school,' like with the sex scenes and all that."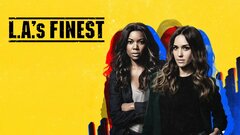 Powered by