'Saturday Night Live's Michael Che and Colin Jost on Weekend Update, Trump and Jared From Subway
Before they get back to breaking news at the Weekend Update desk, Saturday Night Live's Colin Jost and Michael Che broke our stones a little bit.
You're starting your third season anchoring Update. How would you describe your dynamic when you began?
Jost: We didn't go into it with a defined "This is what our dynamic is going to be." We just started and tried to figure it out as we went. It felt a little more natural.
Che: I honestly don't know what dynamic means. [Laughs]
Who is the alpha when it comes to writing?
Jost: Like a pack of dogs?
Che: The alpha? Oh, Jesus. [Laughs]
Jost: Neither of us leads it. We get together, talk it through with the Update writers and talk about what we are going to [cover] that week.
How early in the week do you start working on possible pieces?
Jost: We start talking about larger ideas on Monday, but a lot of times stories are going to change so much between Monday and Friday that you have to see where they go or what other people's takes are.
Aside from the Update bit you guys did on MSNBC during the Democratic National Convention, has it killed you being off the air during this summer's political madness?
Jost: We were both on the road doing stand-up for most of the summer, so we at least had outlets to talk about certain things that were happening. There are things you miss, but then you realize there are going to be more of those stories every week this fall. I'm guessing Donald Trump will still make some news for us.
Do you both know what kind of joke is going to crack up the other?
Che: I know exactly what will crack Colin up.
Jost: It's Jared from Subway. [Laughs]
RELATED: SNL to Offer More Time for Sketches Next Season by Slashing Ads by 30%
Have you ever gone into a show with jokes the other one doesn't know about?
Che: We've done that a couple times. It's fun, but it's really hard because the cue cards are right in front of us.
Jost: I never look at your cue cards. Do you look at my cue cards?
Che: Yeah.
Jost: I never look at yours. I don't cheat like you.
Is there anything coming up that you guys are excited to report on or start taking apart?
Jost: Is the XFL still on?
Che: I'd really like to read this interview back. [Laughs]
Saturday Night Live, Season Premiere (Margot Robbie/The Weeknd), Saturday, October 1, 11:30/10:30c, NBC.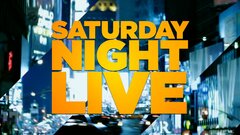 Powered by