Stephen Amell: 'Arrow' Is 'More Grounded' in Season 5
After a year of magical baddies, exorcisms and shape-shifters, "Arrow feels more grounded again," says star Stephen Amell. "As much as a comic book show can be grounded." And if anyone would know about that, it's the straight shooter who's heading into his fifth season as the titular crime fighter and his alter ego, Oliver Queen.
How is Oliver adjusting to his role as the new mayor of Star City?
Oliver is a little disillusioned with being the mayor and is basically using the job to get intel to act as the Green Arrow. Felicity [Emily Bett Rickards] is in the bunker running point. Diggle [David Ramsey] is gone, Thea [Willa Holland] is gone, Laurel [Katie Cassidy] is gone. He's solo and overworked.
RELATED: Arrow: 9 Burning Questions for Season 5
Well, Star City is a mess.
[Laughs] There's so much corruption within the SCPD. We deal with Chad Coleman's character, Tobias Church, this drug kingpin who's utilizing all the holes in the police department to stay ahead of the team.
Echo Kellum is now a series regular whose tech guru Curtis is becoming the DC Comics hero Mr. Terrific. Who else is on Green Arrow's squad?
We have Madison McLaughlin back as Artemis, Rick Gonzalez as Renee Ramirez [aka Wild Dog] and a mystery guest…a new character that has been [brought in].
What can you tell us about this season's villain, Prometheus?
We start to unravel some of that mystery in Episode 6, but for the time being, we just know that he's a guy who's using lethal force. And he looks, conveniently, like a very evil version of my character.
RELATED: Chad Coleman Previews His New Badass Villain
This year's theme—and the title of the premiere—is "Legacy," which is fitting, since you're the O.G. of The CW heroes.
It's really cool. What The CW has accomplished, having four shows on four nights, is something to behold. It is cool being the first one. We're not the biggest property [compared to] The Flash and Supergirl within the DC Comics canon, but our success gave [executive producers] Greg Berlanti, Marc Guggenheim and Andrew Kreisberg the chance to develop more. I hope we can look back at this era of DC television and be very, very proud.
And it all began when you put on the green leather!
I'm glad we were able to bridge the gap for them and I'm also glad that all of them are on the air now. We are now back focused on what the show really should be when you're dealing with a show that is not about superpowers and doesn't have a particular hero with superpowers. When Arrow was pitched, the whole concept and conceit was that we were the show with no superpowers. When we got the chance to introduce [The Flash's] Barry Allen, that just had to change. Obviously now the world is bigger and the things that we deal with are bigger, but Arrow feels much more grounded again. As much as a comic-book show can be grounded—I know that term can be overused. But we introduced in the early part of this season someone that, for us, you can theoretically call a meta-human but he's sort of Arrow's version of a meta-human.
So kind of a return to form for Season 5?
Everything that we're doing this year feels very appropriate for Star City and what we built over the first couple of seasons.
The show has always worked best as grittier story with more physical action instead of dealing with the supernatural realm. It's a guy and his team…whomever that ends up being. Their super power is basically their courage.
We always talk about how Oliver's superpower is that he has no fear. His five years away on the island and everything that he went through took away his ability to be afraid and that was his superpower. And of course, sometimes his weakness. That's where it feels like we are this year. It's interesting because the show was pitched as a five-year idea with the flashbacks, and it's very nice to have a finish line in sight for the flashbacks. That allows us to ramp up the story. I think some of the showrunners would agree that it felt like we were stuck in neutral with the flashbacks a little bit last year. It doesn't feel like that at all this year. We're really pushing fast.
How much goes on in Russia? You've got Dolph Lundgren there, which is just perfect.
It's pretty amazing. Kudos to the producers for getting him. I found that out when you all found that out, I think his deal closed moments before the Television Critics Association panel [this summer].
What do we know about the Russian backstory?
Russia develops really fast, Oliver is there based on a promise that he made at the end of Season 4 to Taiana and he's doing his thing
And is this where your WWE pal Cody Rhodes comes in?
Cody is in the present day, actually. And he really embraced the process. This was his first major acting gig outside of sports entertainment and he was on set when he wasn't even supposed to be on set or needed on set. He actually came a couple days early and just hung by the monitors and asked stuff. He's a real pro and I hope that we get a chance to have him back, because he's a really cool addition.
Going back to the legacy thing, during one of our first interviews before Arrow launched, you spoke a lot about making sure the show was done right. You guys clearly have, but do you feel a responsibility when it comes to the entire Arrowverse now?
I feel a responsibility to our show. It would be weird to say that I feel like a father figure, because I don't. I feel like someone with experience in the genre. As much as it's exciting for the fans, the most important part is really the jobs that we've had the opportunity to create here in Vancouver. Both of our first Assistant Directors on Arrow this year, Ken Shane and Mark Bunting, are getting a chance to direct an episode. That will be their directorial debuts for television. Kim Miles, who was our Director of Photography and became a DP on The Flash, he has an opportunity to direct. [Fight coordinator] James Bamford is now a seasoned director in his own right and those stories go on…the head of our lighting department for four seasons on Arrow is now a DP on Supergirl.
During that first interview, you also mentioned how you weren't a comic-book kid, but you loved wrestling. When Cody filmed with you, was your inner child losing his mind?
The whole time! [Laughs] You know, a show like this gives you a lot of exposure and gives you a lot of cool opportunities on a philanthropic level and on a personal level. But you also just get to do fun stuff. I got to wrestle, I got to take batting practice with my favorite childhood baseball team…and those opportunities just seem to keep presenting themselves. The only thing about it is that I don't sleep nearly as much as I should! [Laughs] I get the feeling that whenever Arrow's done, there's just going to be a period of time, not forever, but probably for a couple months, where you just won't see me. I will be gone.
You'll be in Palm Springs, hiding?
No, I'll be hiding in India somewhere with no phone. It's going to be great. [Laughs]
Arrow, Season Premiere, Wednesday, October 5, 8/7c, The CW.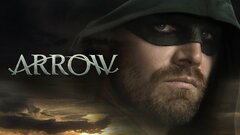 Arrow
where to stream
Powered by