'Arrow': 9 Burning Questions for Season 5
Now that Damien Darhk—he's magically malicious!—has been vanquished and the Green Arrow has become a public hero, what's next for Oliver and Co.? A lot of work, a more human foe and some very heavy accents, previews executive producer Wendy Mericle.
The Glades have been destroyed, Slade Wilson's army invaded, half the police force has been killed and now there's a massive hole in the middle of town. Can it get worse for Star City?
As Curtis (Echo Kellum) said in the finale, it requires a special kind of tenacity to live (or just survive) in Star City. Just don't expect it to land on any Best Cities to Live In list anytime soon. "When we come back in Season 5, it's overrun with crime," says Mericle, pointing out that Star City is a soft target for gang activity and corruption.
RELATED: Carly Pope Shoots Over to Arrow
Next stop, Russia?
Da! Aiming for more integration between Oliver's (Stephen Amell) past and present, Mericle says, "We're going to Russia in the flashbacks" to explore our hero's time with the Bratva. At the same time, the current storyline will see the Russian Mafia making trouble for a wave of self-appointed vigilantes running amok in Star City.
Can Team Arrow be salvaged?
More like rebuilt. Since Diggle (David Ramsey) is heading back to the military "to find his moral compass" after killing his own brother, and Thea (Willa Holland) has retired her Speedy alias to work in Mayor Queen's office, Mericle predicts, "Oliver is going to have to go out and find some new people."
Such as?
Mr. Terrific! Having unleashed his heroic side to help Oliver last season, Mericle reveals that Curtis Holt will attempt to become an official member of the crew. "We will be doing a real origin story for Mr. Terrific in Season 5."
Any chance of Roy Harper (Colton Haynes) reenlisting?
"We would love to bring Colton back," Mericle replies instantly. And seeing how Thea is done with the costume, her ex is free to don the red leather as Arsenal again. "If Colton's available and we can make everyone's schedules work, we would absolutely do it."
What should we take from Felicity (Emily Bett Rickards) and Oliver being together in the last scene of the finale?
With the team essentially dismantled, the exes "were the only two people left in the bunker, which we felt was symbolic," Mericle says. But don't assume that means Olicity lives again. "We deliberately left it ambiguous."
Who is the Green Arrow's next nemesis?
We can't tell you his name, but we can tell you his game: revenge. Season 5's villain "is somebody Oliver unwittingly created in Season 1 when he was a killer in a hood," Mericle teases. "This guy is going to be collateral damage who lost someone to the Hood and [has] spent the last several years training and plotting for revenge. He will be a true dark mirror to Oliver Queen."
RELATED: Arrow Cast, Producers on the Show's Emotional Death
Will someone else take up the mantle of Black Canary?
Because the controversial death of Laurel Lance (Katie Cassidy) was actually the second time a Canary was clipped (though Caity Lotz's Sara Lance came back as DC's Legends of Tomorrow's White Canary), it wouldn't be crazy to see a third bird. "I can't say too much about that," Mericle hedges, quickly adding that, "I can say with confidence that, in Season 5, our decision will make more sense…even to the fans who were really vehemently opposed to it."
What the hell did Laurel whisper to Oliver before she died?
We're as curious as you are, but the good news is, the wait is almost over. According to Mericle, the late Black Canary's last words will be revealed in the season premiere.
Arrow's SDCC panel will be on Saturday July 23, 5:45p in Ballroom 20.
Arrow, Season Premiere, Wednesday, Oct. 5, 8/7c, The CW.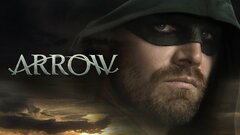 Arrow
where to stream
Powered by