'Arrow': Chad Coleman on Being Oliver's New Foe and 'A Capital Badass'
The League of Assassins is gonna look like the Junior League compared to the new foe facing Oliver Queen/Green Arrow (Stephen Amell) as Season 5 of Arrow begins. "This guy is a capital badass," declares Walking Dead alum Chad Coleman of his Tobias Church, the violent gangster who storms Star City.
RELATED: Stephen Amell: Arrow Is 'More Grounded' in Season 5
Describing the character as "Jay Z, Suge Knight and Dr. Dre all rolled into one," with a touch of "Jack Nicholson as the Joker," Coleman (above, with Amell) sees his baller kingpin as Queen's deadliest threat to date because Church's sole goal is power. And the best way to gain power is to kill a superhero. "He most pointedly has Green Arrow in his sights," Coleman continues. "This is his come-up, how he shows the world that he's the most powerful man alive."
Of course, Church won't be able to best anyone without some support, so he takes full advantage of Star City's current chaotic state—it's been overrun with both criminals and makeshift vigilantes since Oliver's public call to arms in May's season finale—to build an army. "He brings together the whole underworld, every Mafia member, corrupt cops…everybody that's doing dirt, he brings them under his umbrella," Coleman says.
RELATED: Arrow: 9 Burning Questions for Season 5
What he doesn't realize, however, is that Oliver and Felicity (Emily Bett Rickards) are doing some recruiting of their own. With Thea (Willa Holland) and Diggle (David Ramsey) off duty (for now), Team Arrow is set to welcome a handful of new members, including Wild Dog (Rick Gonzalez) and Artemis (Madison McLaughlin), as well as IT hipster Curtis Holt (Echo Kellum). And if they're as good as their Team Arrow predecessors, Church may not have a prayer.
Arrow, Season Premiere Wednesday, October 5, 8/7c, The CW.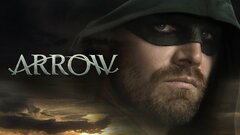 Arrow
where to stream
Powered by