'The Vampire Diaries': Ian Somerhalder and Michael Malarkey on the Final Season
Mystic Falls will become a memory when The Vampire Diaries ends next spring, but there's lots of loving, killing, redemption and surprises before the finale. Plus, some major returnees, including werewolf Tyler Lockwood (Michael Trevino), vampire hunter Jeremy Gilbert (Steven R. McQueen) and possibly Nina Dobrev, whose Elena Gilbert has been under a spell, moldering in a coffin.
Last season ended with the gang helping to cure Bonnie (Kat Graham) of the curse that made the former witch an insatiable vampire hunter, and her intended victims Stefan (Paul Wesley) and Caroline (Candice King) reunited with a juicy kiss. But it wasn't all good times. Deep in a haunted vault, frenemy vamps Damon (Ian Somerhalder) and Enzo (Michael Malarkey) were possessed by an evil spirit that sent the pair out on an endless killing spree.
The real-life buds talk about what lies ahead for Damon and Enzo, or as Somerhalder dubs them, "the much-loved dynamic duo."
You guys are super dark! Your antics make Ripper Stefan look like a cupcake. What are you up to when the season opens?
Malarkey: I was just imagining a Paul Wesley cupcake with his hair as frosting…. We're killing people!
Somerhalder: Enzo is fighting this tooth and nail while Damon is an almost catatonic evildoer.
Malarkey: Because [he loves] Bonnie, Enzo is hanging on to a shred of his humanity. I think Damon and Enzo are the final season's antiheroes.
Somerhalder: These guys have a damn good time doing whatever it is they're doing together. That always makes them fun to watch.
If Bonnie is Enzo's linchpin, can Damon fully heal without Elena? Of course, we need Nina to return.
Somerhalder: Damon deserves what he gets. Stefan and Damon ruined poor Elena's life! The best redemption for Elena and all of Mystic Falls is for Damon and Stefan to just go away.
RELATED: The Vampire Diaries to End with Season 8
That's gloomy. So what's the badass creature possessing the guys?
Somerhalder: It's a pretty gnarly entity. Like me with a really bad hangover.
Malarkey: [Laughs] You'll get a hint of what it is in the first episode. It's pretty awesome how we reveal what's actually going on.
What are their friends doing to find and cure the guys?
Malarkey: At the top of the season, everyone is working together to get them back. Then it gets a lot more complicated!
How do you feel about this being The Vampire Diaries' last season?
Malarkey: We'll be going out on a high, with the writers having the opportunity to create the kind of ending that they envisioned. That's pretty amazing.
The Vampire Diaries, Season premiere, Friday, Oct. 21, 8/7c, The CW.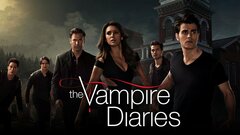 Powered by