'Grey's Anatomy': Meredith Continues to Rebuild Her Post-McDreamy Life in Season 13
Is there life beyond McDreamy? Oh, hell yeah! Last season, Grey's Anatomy followed Dr. Meredith Grey (Ellen Pompeo) as she grieved for her husband, Derek Shepherd (Patrick Dempsey). The ratings spiked, and Grey's ended the 2015–16 season as the third highest-rated network drama in the advertiser-coveted 18–49 demo (behind Empire and The X-Files), a stunning achievement for a 12-year-old program that—by all the rules of showbiz—should require life support by now.
That said, the show's creator, Shonda Rhimes, isn't reveling in all this viewer love. On the eve of the show's 13th season, she's only thinking about one fan, and that fan's name is Shonda Rhimes.
RELATED: More Scoop on Fall Shows
"Here's how I operate: If I don't completely reinvent Grey's Anatomy every season, then I'm not going to be interested anymore," Rhimes says. "I need to keep this show fresh and rewarding and moving forward. Last season was about Meredith trying to figure out who she is without her marriage and her best friend, Cristina [Sandra Oh]—in fact, without her whole support system." Now, says Rhimes, "we find out what this rebuilding of Meredith's life really means and how it affects the people around her, and we're really going to test her ride-or-die friendship with Alex [Justin Chambers]."
In last May's season finale, Alex beat the bejesus out of Andrew (Giacomo Gianniotti) after the doc thought he'd caught the young intern about to have sex with his girlfriend, Jo (Camilla Luddington). (In fact, Andrew had simply escorted a drunk Jo home and was helping her to bed.) Now Andrew is fighting for his life and Alex is the most hated man at Grey Sloan Memorial. "There's just no way to spin it to make Alex look good," Rhimes says.
RELATED: Grey's Anatomy: Ellen Pompeo on How Meredith Dealt With Loss
This being Grey's, Alex and Jo's relationship isn't the only one being tested. Both Meredith and her sister Maggie (Kelly McCreary) are jonesing for the same guy—brash heart surgeon Nathan Riggs (Martin Henderson). And Maggie has no clue that Meredith and Riggs have had sex. It's heartbreak waiting to happen. "Meredith likes Riggs," concedes Pompeo, "but does she like him enough to ruin her relationship with her sister? Because that's what's going to happen. We play it as a triangle, with Maggie always talking about her big crush and Meredith not telling her the truth—which I assume means they'll be on the outs one day."
Pompeo admits she has issues with the Meredith-Riggs hookup. "It didn't make sense to me last season, and it still doesn't," the actress says with a laugh. "Meredith had previously slept with Will Thorpe [Scott Elrod] and liked him too much and it scared her, so she sent him away. So why would she turn around and have sex with Riggs in a car? And she did it in the hospital parking lot, where anyone could see! I just don't know what she's thinking."
In rosier romance news, Arizona (Jessica Capshaw), who in the finale ended her toxic custody battle with ex Callie (Sara Ramirez), will find a new love. And Miranda (Chandra Wilson) and hubby Ben (Jason George)—who reconnected after Ben performed a life-saving C-section on April (Sarah Drew)—will stay strong. "You'll never have to worry about those two getting a divorce," Rhimes promises. "They will make this marriage work at all costs."
Can the same be said of Owen (Kevin McKidd) and Amelia (Caterina Scorsone)? Their May wedding nearly didn't happen when she fled the church. "They will hopefully be happy…for a while," McKidd says. "But there will be a day of reckoning. They realize they don't know as much about each other as they should."
A likely point of conflict is Owen's longing to be a dad. That wasn't in the cards for him with ex-wife Cristina, and Amelia has her own traumatic history. (She lost a child years ago on the Grey's spinoff Private Practice.) "This has the potential for fireworks," McKidd says.
But in other ways these two broken souls—she's a recovering alcoholic, he's a war vet with PTSD—are in it to win it. "They acknowledge they're f—ed up and see it as their mission to mend and heal each other," McKidd says. "The early years of Grey's Anatomy were all about the flush of that first great love. Now, as our show and our audience grow older, we're asking, 'Is second love a real thing? Can it be even greater than first love?' If so, that's very exciting."
Grey's Anatomy, Season Premiere, Thurdsay, September 22, 8/7c, ABC.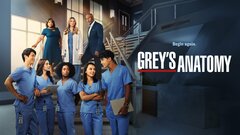 Powered by