Tina Fey on 2020, From Holiday Movies to Her Favorite TV Shows (VIDEO)
There are no rules for how to spend the holidays this year. Some of us plan to overdo the baked goods, some are shopping 'til their credit scores drop, and others, who can blame them, are giving in to their inner Grinches. For Tina Fey, executive producer of NBC's upcoming Mr. Mayor, 2020 Christmas means "one or two masked Target runs" and an abundance of atmosphere.
"We are decorating really hard, even though no one is coming over," she tells TV Insider, adding that quarantine for her, composer husband Jeff Richmond, and daughters Alice and Penelope has led to oh-so-many Tannenbaums. "So far, we have three trees up. I  say 'so far' because I don't know what's gonna happen!"
In addition to Mr. Mayor, Fey has the Peacock musical comedy Girls5eva in production, and is one of the voices of Pixar's "Soul," which premieres Christmas Day on Disney+. Watch the clip above to also hear all about them.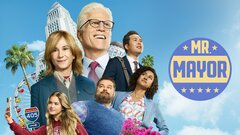 Powered by