'black-ish': A New Johnson Is On the Way in Season 3
Oh, baby! When we last saw the Johnsons, Dre (Anthony Anderson) and the newly pregnant Bow (Tracee Ellis Ross) were trying to wrap their heads around adding a—gulp!—fifth kid to the clan. Here, creator Kenya Barris offers a preview of what's in store for Season 3.
As for whether the sitcom—which has tackled hot-button issues in the past—will be addressing the nutty real-life presidential election? "I have no idea yet," Barris says with a laugh, "but if Donald Trump wants to come on over, we'd love to have a conversation with him!"
RELATED: Black-ish Remembers the Good Times in a Season Finale Tribute (PHOTOS)
They're going to Disney World!
Cue the Elsa and Anna cameos! The premiere picks up just weeks after the events of Season 2's finale, with the L.A.-based crew heading to the Magic Kingdom. "Dre wants to provide the family vacation he thinks he should've had as a child," says Barris, noting that the episode was shot on location in Orlando. "It's the biggest show we've ever done."
Work-life balance issues abound.
Already a successful advertising exec, Dre wants to further up his game at the office. "He gets more serious," Barris says. "He lands some big clients, and he's feeling more pressure." Meanwhile, Bow's bun in the oven will have her contemplating how she'll juggle the new arrival with the demands of being a top surgeon. "We're trying to play it as real as possible—she's trying to figure out what it means to pair those two worlds," Barris says.
RELATED: Black-ish Stars and Producers Discuss Their Groundbreaking Police Brutality Episode, 'Hope'
Change is in the air.
The eldest Johnson kids, Zoey (Yara Shahidi) and Andre Jr. (Marcus Scribner), are growing up—in more ways than one. "Junior is over 6 feet tall now!" says Barris. "He'll be going through some social revelations and coming into his own." For her part, Zoey is a high school senior with one designer shoe practically out the door. "Dre is about to lose a daughter—he's going to start looking at her in a different way," Barris says. Probably not helping to ease his anxiety: the arrival of Bow's entitled, hipster younger brother, Johan (Hamilton's Daveed Diggs), who begins an extended arc on September 28. Says Barris, "He's an ally for Bow but a thorn in the side for Dre!"
black-ish, Season Premiere, Wednesday, September 21, 9:30/8:30c, ABC.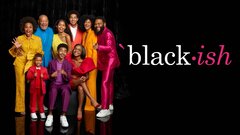 Powered by