'Black-ish' Stars and Producers Discuss Their Groundbreaking Police Brutality Episode, "Hope"
The recent Black-ish episode "Hope" resonated with star Anthony Anderson for deeply personal reasons.
"I've been a victim of police brutality," Anderson (who plays Andre "Dre" Johnson) told Black-ish fans gathered Sunday afternoon at Hollywood's Dolby Theatre. "I know first hand what that's like. These are stories we've committed to tell."
The impact of "Hope" was a major part of the conversation on stage for Black-ish's screening and panel discussion at PaleyFest, the annual TV fan event continuing this month in Los Angeles.
The episode, which aired Feb. 24, took place entirely in the family's living room as they watched TV news, awaiting the verdict in a police brutality case. From there, each family member has a different take on current events–and no one knows how to explain the ugly truth to the family's youngest kids.
Although the episode touched on police brutality, Black-ish creator Kenya Barris said it was actually inspired by his own struggles with how to discuss headlines like that with his children.
"I'm a huge supporter of Black Lives Matter, but this wasn't the 'Black Lives Matter episode,'" Barris said. "It didn't even start with police brutality. We live in a time [where] 24-hour news is right there. How do you have these conversations with your children and not change or ruin or scorch the earth on what their futures will be?"
Barris wrote the episode over the Christmas holiday and came back with a script draft that wound up virtually unchanged.
"We were able to start a conversation in people's households," said Marcus Scribner, who plays teenage son Junior. "That's what its all about here at Black-ish."
Yara Shahidi, who plays teenage daughter Zoey, says she had her own conversation with her 8-year-old brother after watching the episode–and grappled with how much to tell him.
"I made sure he wrote all his questions down so we could have a conversation," she says. But "I don't want to break his reality."
Jenifer Lewis, who plays the kids' grandmother, says she teared up watching the scene where, as the family watches the verdict, the two youngest characters, Jack and Diane (Miles Brown and Marsai Martin) ask, "Is anyone going to tell us what's going on?"
RELATED: Why Jenifer Lewis Is a Scene Stealing Grandma
"The episode was so richly written so that you could come from every aspect, every opinion," Lewis said. "This show is telling a lot of people what's going on and laughing at the same time." Added Tracee Ellis Ross, who stars as Dre's wife Rainbow: "I had to take a step back on 'Hope' because my character's point of view was different than mine."
In shooting the entire episode in the living room, Barris said he "wanted it to feel claustrophobic, like you are peaking in on a family's conversation."
Peter Mackenzie, who plays Dre's boss, Mr. Stevens, said "Hope" upped the stakes for Black-ish.
"It made us socially relevant," he said. "This show is a Norman Lear show."
Barris agrees that Black-ish's embrace of real-life debates has been a nod to Lear's shows like All in the Family.
"They were doing shows 30, 40 years ago that were more impactful and honest than what [TV does now]," he said. "We've digressed."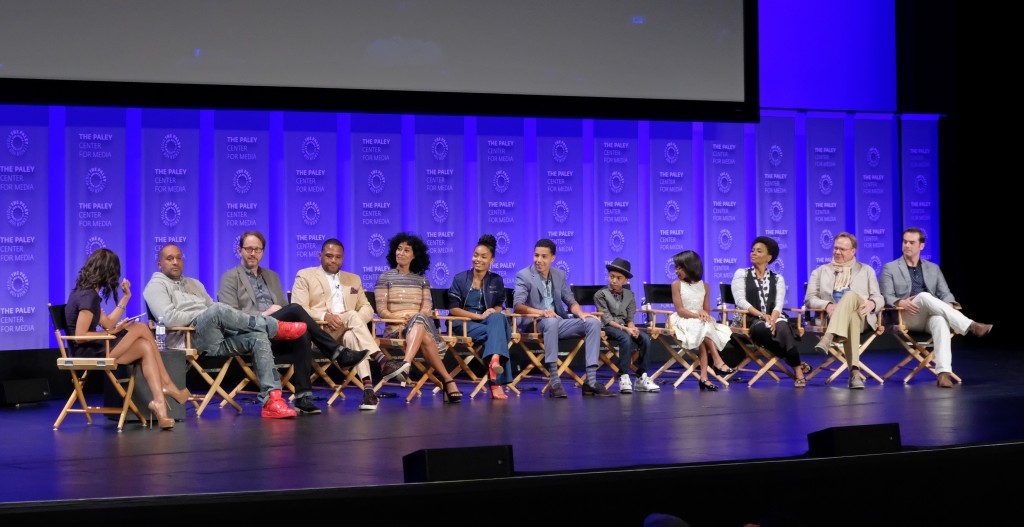 Nonetheless, Black-ish has picked up the torch by also doing episodes centered on hot-button topics such as spanking, guns and the use of the "n" word.
But Barris says the show isn't doing "ripped-from-the-headlines" stories.
"We're not Law & Order," said Barris, referring to a show that, coincidentally, Anderson once starred on. "We're having real specific conversations that this family would have. Just happens to be this is the world were living in."
Anderson and Barris credited former ABC Entertainment president Paul Lee for supporting episodes like the one exploring the "n" word. Asked if he still used the word, Anderson admitted he's trying to use it less.
"I have not stopped," he admitted. "It's not a great word to use… I try not to say it but I do it."
As for touching on hot topics, Anderson added, "I don't think were pushing the envelope, we're telling the truth."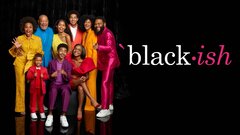 Powered by