'Suits' Boss Explains Shocking Exit in Midseason Finale
Warning: This interview includes major spoilers about Suits' mid-season finale, so don't sue us if you haven't seen the episode yet.
Wait, what just happened? After a season spent working to get Mike (Patrick J. Adams) out of prison and helping Louis (Rick Hoffman) fall in love, Suits just closed out Season 6's mid-season finale with a doozy of a jaw-dropper. Jessica Pearson, the founding partner of Pearson Specter Litt so masterfully played with regal perfection by Gina Torres since the series pilot, decided to get out of the game and agreed to move to Chicago with ex, Jeff Malone (D.B. Woodside). It was a twist that nobody saw coming, although, according to executive producer Aaron Korsh, the hints were there all along. We'll let him explain…
OK, you finally get Mike (Patrick J. Adams) out of jail, Louis (Rick Hoffman) proposes to Tara (Carly Pope) and Rachel (Meghan Markle) won her Innocence Project case…only to have Jessica announce that she's leaving the firm?! This may be the deepest cut ever…except if you had actually killed one of them.
[Laughs] Let me say this, Jessica leaving was not driven by us. You know, Gina sort of has stuff that was going on in her life and it was time. She felt like it was time for her to leave the show and she wanted to basically be in Los Angeles, which is her home. She's a member of our family and we supported that. So, it was not my decision to get rid of Jessica, but once it was presented to me that we were going to get rid of Jessica, I did want her to die. When you work with these people as series regulars, I love them so much, so I would have found it really almost impossible to contemplate killing one of them off [as a regular] because it would mean taking away to some degree their livelihood. I wouldn't ever really contemplate that. But if they're going to go anyway it's almost an opportunity!
RELATED: Gabriel Macht on Suits' New Direction and How Harvey Might Spring Mike From Prison
If they gotta go…
Right, it's a storyline option. And in my head, the initial way we were going to do this thing was tell the story exactly like we did. I also thought that people were going to see it coming because there'd been reporting on she'd done a pilot last year but once the pilot didn't get picked up I sort of hoped people wouldn't notice. I knew there was some percentage of people who were going to see this coming. And I thought, what if we did exactly the same episode that we had where she goes to Malone and he says yes, but then another scene comes in and someone informs you that the father that had gone nuts on Rachel had gone to Jessica and had an altercation and killed her?
That would not be OK!
It would be a scene you would never forget for the rest of your life. It would devastate us all. And it would really obviously very much affect what we were doing in the back six episodes of the season. We'd have to either do a time jump or really have a big bummer of a back six. I would have chosen probably to do like a two-year time jump because I wouldn't have wanted to limit that. But anyway, we didn't end up doing that for various reasons, so you should be thanking me! [Laughs]
All right fine. And I do love how you arranged the dynamic of Harvey (Gabriel Macht) and Louis, kind of like the two kids finding out mom is leaving and the older one knowing that she has to do this.
Yeah, I mean, in our minds that was a lot of growth for Harvey. He's had his abandonment issues. So for him to, in the moment, understand that Jessica needs to do this—imagine the Season 1 Harvey, he was so different! he would have done whatever he had to do to make it stop it from happening. That he accepts it is huge growth for him. And obviously some of the focus of the back six is going to be that you can accept something in the moment, but when you still have to live with it and really accept it? That's different.
Will the winter premiere resume right after she's left?
Yeah, we're going to pick it up right after, the next morning.
And you knew the show was renewed for a seventh season before doing this episode, right?
Oh yeah, yeah, sure. I didn't know about it officially, I wasn't in the board meeting when they decided to give us a renewal, but they renewed my contract for two years, for Seasons 6 and 7, and they renewed the cast for Season 7. So it didn't make sense that we weren't going to go ahead. [Laughs]
So what do you have up your sleeve for this back six?
I got nothing. [Laughs]
Well then let me pitch a few things to you. There's a wedding that still needs to happen and there needs to be the battle for the firm—the first name on the wall.
Yep, well alright there you go! We'd better get to figuring that stuff out. [Laughs] I don't know if the wedding has to happen in the back six, it may or may not, we haven't gotten there yet. And by the way, now there's two weddings, cause Louis and Tara.
And then there's the whole Darvey situation. You gave us that great hand-holding moment, which I think fans have been waiting for since last season.
I think they've been waiting since two years before I wrote the Suits pilot. [Laughs]
Do you have plans to in the back six start to explore what could be between Harvey and Donna (Sarah Rafferty)?
You know I try to be a little cagey with these things. [Laughs] I'm not gonna paint myself in too much of a corner, but we don't ignore that moment, I'll say that. There is an aftermath to that moment. What we try to do is sort of weave different things together and make them feel like they are leading to something. I would say like the way Rachel took the Innocence Project case as a way to take her mind off Mike in prison. That led to Jessica joining in on it, initially to save her firm's reputation and that reawakened in her this desire to help a fellow man. All of that connected with her comment at the beginning of the season whens she said "Do I even have it in me to keep this firm together anymore?" Everything is all meant to be a piece of another thing. So that hand-holding moment is meant to be a piece of the other things that we're doing moving forward.
RELATED: Carly Pope Teases Her New Character on Suits
Such as?
I won't specifically say because I don't want to give away too much. I would say, if it had nothing to do with them moving romantically forward, it's just an indicator of how far Harvey has grown from the earlier years, that he would admit to being vulnerable in that moment and allow Donna to comfort him there. In addition to that is the intimacy between the two of them. Does it awaken thoughts or feelings within either one of them? Possibly, possibly not. I won't answer that. But it's not ignored and we do try to acknowledge it moving forward in the back six.
Will we see Jessica in the second half of the season? Please say yes, because I feel like there might be an uprising. We were calling her Queen way before Beyonce!
But I didn't do it! Let me say this, maybe this will be my last statement ever…because they're going to kill me. [Laughs] In all seriousness, you could not hope to have a better cast member than Gina Torres. I used to tell her, I don't know a year or two ago, that I can't wait for someone from like another show thinking of hiring Gina to call me and want to know what it's like to work with her because there's nothing she can't do. She kills every scene, she is always prepared, she knows all her lines, I have never heard her complain about anything. She's so professional, whenever she calls you to discuss something that she thinks could be improved upon, she's always right and if you listen to her you're gonna elevate the material and she's always appreciative. She really is the queen. I can't say enough about her. We have definitely not seen the last of Jessica Pearson.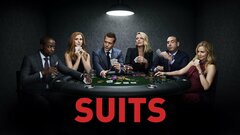 Suits
where to stream
Powered by