On 'Designated Survivor', Kiefer Sutherland Plays an Unexpected President
It's early morning on the Toronto set of ABC's Designated Survivor and Kiefer Sutherland is on the brink of losing his cool. Or rather, his character—the freshly minted U.S. President Tom Kirkman—is, as he stews over a blatant act of mutiny by one of his many newfound political enemies. Will he grab the nearest weapon and strike out at the traitor? Nah. Instead, he walks over to his massive desk and reaches for the telephone.
"I hope that people aren't expecting me to be doing stunts in the Oval Office," Sutherland says a few hours later, perched calmly in the fictional White House's plush family residence. "Because it's not gonna happen."
In other words, Jack Bauer has left the building. After nine seasons on Fox's pulse-pounding 24, Sutherland is no longer channeling an action hero but a thinking man called to action.
When we first encounter Kirkman, he's a lusterless Cabinet member—the secretary of Housing and Urban Development, to be exact—and a pancake-flipping family man. Then a massive terrorist strike hits the Capitol Building during the State of the Union address, wiping out all of the country's top officials suddenly leaving Kirkman to take over as president. "I had heard this weird piece of trivia about a 'designated survivor'—it's a real thing in our government—and found it oddly fascinating," says creator David Guggenheim (Safe House, Stolen). "How does someone go from a low-level Cabinet job to the most powerful person in the world in an instant?"
We're about to learn the answer, and it just happens to be coming in the midst of the wildly contentious, divisive and downright bonkers face-off between candidates Hillary Clinton and Donald Trump. "We're all mired in the presidential election right now," Sutherland says. "What's really endearing about Tom Kirkman is that he doesn't want the job. He has a strong political perspective, but he's not a political animal."
While Designated Survivor's premise is obviously somewhat far-flung, its potential appeal is undeniable given the current climate. Acknowledges Guggenheim, "At a time when the American people are so fed up, there is some wish fulfillment to the thought of 'one of us' in the White House, using common-sense solutions as well as the idea of getting to start over from scratch."
If this has the faint trappings of a Cinderella story, then it's certainly a far cry from the typical Disney version. For starters, Kirkman—who would already be woefully underprepared for this gig under optimal circumstances—is being handed the keys to the kingdom at a moment of national crisis. "The country is falling into chaos, and there are global threats against America," says Guggenheim. "It's the definition of on-the-job training, and he's been thrown into the deep end."
RELATED: ABC Officially Orders Kiefer Sutherland-Led Designated Survivor to Series
Kirkman doesn't know the half of it. At the end of the pilot, we'll learn that more terrorist attacks may be in the pipeline. And although at first glance the attack that took out the Capitol appears to be the work of an extremist group like ISIS, FBI agent Hannah Wells (Nikita's Maggie Q) has a hunch that the truth could be more complicated—and closer to home.
"Hannah is not going to grab at the low-hanging fruit. She'll keep digging, even if her theories end up hurting her personally," says Maggie Q. Further raising the stakes: The savvy investigator is unable to voice her suspicions to Kirkman. "They're being kept separate. We're shooting the fifth episode right now, and I still feel like I'm on my own island," she says. "When they do finally come together, the impact will be so worth it."
Until then, Kirkman will have to navigate uncharted waters, receiving help from an ad hoc inner circle of surviving staffers. The shell-shocked crew includes Seth Wright (House's Kal Penn), a White House speechwriter who makes it clear from the get-go that he doesn't think this insta-POTUS is up to the task. "Seth puts his foot in his mouth," says Penn, who served for two years as a public liaison in the Obama administration and is doing double duty on Designated Survivor as a consultant. "But at least Kirkman knows exactly where he stands with Seth, and that brings them closer."
Another ally in the challenging days ahead: Emily Rhodes (Chasing Life's Italia Ricci), Kirkman's idealistic former right hand at HUD. "She'll try to help Tom stay true to who he was before," Ricci says. Emily's desire to keep Kirkman's ear is destined to put her in competition with the slick, ultra-ambitious Aaron Shore (The Following's Adan Canto), the deputy White House chief of staff prior to the bombing. "He's capable of pulling a lot of strings," hints Canto. "He's well-connected, and he's prepared for anything with a Plan A, B and C."
Sounds like a decent strategy, considering the stage has been set for what seems like an inevitable power grab. In addition to the doubters and backstabbers lurking within Kirkman's camp, Kimble Hookstraten (American Gothic's Virginia Madsen)—a congresswoman who's revealed to be (surprise!) the Republicans' own designated survivor—arrives on the scene in Episode 2. Naturally, she'll have concerns about Kirkman based on his inexperience and their ideological differences—she's conservative; he's an independent—and perhaps a hidden agenda to boot. Says Madsen, "She's a very strong woman and quite presidential herself."
Of course, she won't be the only strong woman making her presence known at 1600 Pennsylvania Avenue. Kirkman's wife, Alex (Californication's Natascha McElhone)—an immigration attorney and hands-on mom to their two kids, 17-year-old Leo (Tanner Buchanan) and 9-year-old Penny (Mckenna Grace)—is unlikely to develop a zest for picking out china patterns and organizing the Easter egg roll on the South Lawn simply because she's been anointed First Lady. "For sure, she'll have opinions to share with her husband," says McElhone. "Whether he'll take them in is the question. He's going to have to make practical choices as a president that go against what he really feels, and the loyalty between Alex and Tom—which is very evident—will be tested."
Especially once the skeletons start tumbling out of their closets. "One of our favorite ideas to explore here is that this family has never been vetted, and when the spotlight is on you, people start digging," says Guggenheim.
To say plenty of wheels are being set in motion would be an understatement, and for Sutherland, that's the main draw. "The show works on three levels: There's the thriller aspect with the conspiracy investigation; there's the family drama; and there's the political angle," he says. "All of those storylines can intersect and also live on their own. We have a lot of landscape to work with."
RELATED: Kiefer Sutherland Says He's Not Done Playing Jack Bauer
So much, in fact, that Sutherland signed on despite having zero desire to jump into another major series at this point. "It's hard to say this, because I love what I do, but the truth is that after nine years of 24, I was a little tired," he says. "But you don't come across opportunities like this very often. Playing Jack Bauer was one of the great gifts of my life, and I'm hoping this will be the other."
As for how the 49-year-old is handling the shift from adrenaline junkie to political junkie? "Maybe this is the time in my life to be making an intelligent or passionate argument, as opposed to fighting three guys at once," he says with a smile. "This is the best role for where I am right now."
Designated Survivor, Series Premiere, Wednesday, September 21, 10/9c, ABC.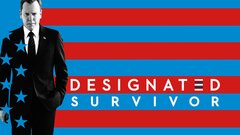 Powered by