Kiefer Sutherland Says He's Not Done Playing Jack Bauer Sutherland, a producer on the Bauer-less 24: Legacy, won't rule out reprising his famous character, telling Rolling Stone: "I think it's going to be incredibly liberating for the writers to not have to figure out one more bad day for Jack Bauer. They get to write for new characters. And Bauer's still out there, so you never know what's going to happen." Sutherland also says of his new show, ABC's Designated Survivor, in which he plays the president of the United States, "I have not been as excited about doing something as I am right now, since the early days of 24."
Watch the anti-Donald Trump Republican "establishment" sing and dance in an unaired sketch.
In an Instagram post expressing her gratitude to Adweek, the Scandal star wrote of the photoshopped changes: "I just felt weary. It felt strange to look at a picture of myself that is so different from what I look like when I look in the mirror. It's an unfortunate feeling." PLUS: Adweek responds.
"There really is a darkness when you are playing someone psychotic you have to go there mentally," he says. "It's almost like we look over a cliff and picture yourself falling so that gives you a fear of it. So this is falling for six months and kind of what that means to you."
According to Slate, the NFL wanted to partner with Twitter — despite Facebook having a higher bid — for just $10 million to reach the young, cord-cutting demo that league is targeting.
The Napa wine-making family comedy was set to shoot in Charlotte.
The animated series was picked up last week for a fifth season, but Cartoon Brew says the announcement was "disingenuous" and a "savvy way to spin bad news" when, in fact, the show's crew is being laid off.
Castle! NCIS!: Hillary Clinton tells The View all the primetime TV dramas she watches
They include: Madam Secretary, The Good Wife, "all varieties" of NCIS, Scandal, Grey's Anatomy and Castle.
Trevor Noah's Daily Show is irrelevant, says Kristin Hunt, and Oliver's Last Week Tonight, while great, is more like 60 Minutes or Frontline compared to Stewart's Daily Show. As Hunt notes, "what Stewart was aiming to do…was help you process and get over that dumb, viral soundbite some senator dropped on CNN the other day. Samantha Bee knows how to do that, too—better than anyone else on TV right now."
The Late Night host previously appeared in a Season 1 episode as a guy named "Matt." PLUS: Tabasco creates Mindy hot sauce.
Comedies like Girls, Love and Flaked, says Sarah Hepola, "are showing more nuanced portraits of recovery than we've ever seen on television, and they're asking the same questions problem drinkers ask themselves: What is addiction, exactly?"
Although Schumer was part of a special "plus-size" issue, Glamour editor in chief Cindi Leive tweeted: "We love Amy Schumer, & would never want to offend her. To be clear, @glamourmag special edition never called her plus-size…"
Recalling when she was first asked about feminism at age 12, Williams tells EW, "I remember thinking, 'Isn't that just like everyone?' And then I realized everyone is not a feminist, unfortunately. But I also feel like we should stop calling feminists "feminists" and just start calling people who aren't feminist "sexist" – and then everyone else is just a human. You are either a normal person or a sexist. People get a label when they're bad. Because it works the other way, as well. A lot of men have it hard too." PLUS: Emilia Clarke would like Game of Thrones to end with a lot of male nudity.
A renewal of the TV show based on the movie comes weeks after its premiere.
As she notes, a lot of Kim and Jimmy's relationship "happens between the lines."
The ABC comedy's fifth anniversary is next week.
Weird Al released two promos showing the comedic chemistry between him and Scott Aukerman.
"We can't seem to keep them in stock," says one seller of the WaterRower.
Rowland will seek new talent via her new Chasing Destiny reality show, premiering tonight.
Chhlumsky is already mom to a 2 1/2-year-old daughter.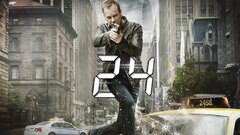 24
where to stream