'Code Black': First Look at Season 2 Trailer Featuring Rob Lowe
You may have heard that Rob Lowe is joining the team at CBS's Code Black in Season 2 but, based on the first trailer released Thursday by CBS, his new character may not be making friends right off the bat.
We'll see a new crop of residents in the mix (including an all-grown-up Noah Gray-Cabey, who played Micah in Heroes) when the new season kicks off on September 28 but Lowe's Colonel Ethan Willis is going to be the one to stir the pot at Angels Memorial. With a medical combat background, Willis's renegade approach could endanger patients and, as you'll see in the trailer, one of his fellow doctors.
RELATED: Code Black: First Look at Rob Lowe as Angels Memorial's New Doctor
Also revealed in the trailer, Boris Kodjoe's Dr. Campbell is now in charge of both the ER and OR and that has a direct effect on the future of Leanne (Marcia Gay Harden). Check out the full trailer here:
Code Black, Season Premiere, Wednesday, September 28, 10/9c, CBS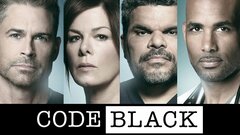 Powered by