'90 Day Fiancé: The Other Way' Finale: Win Some, Lose Some (RECAP)
[Warning: The below contains MAJOR spoilers for Season 2, Episode 22 of 90 Day Fiancé: The Other Way.]
This season finale proves there are two types of love: one that can overcome all odds and one that folds under pressure. As the couples ultimately discover what type their relationship is while in quarantine, it's clear that love truly can persevere.
Giving Up
Sumit emotionally tries to make his parents understand his love for Jenny. Finally, he begins translating so Jenny can understand, conveniently right when his mother starts yelling "shame!" towards her.
"There's no shame. He's not my son, he's your son," Jenny argues.
"You should consider him a son," Sumit's mother counters.
Jenny asks why his parents were open to her when she was a tourist staying in their house, but now that she's with Sumit, they disown her. Sumit's mother explains that she was just being a good host.
"I'm begging you to leave our son alone," Sumit's father jumps in. Jenny tries to open up about the fact she didn't want her daughter to marry her wife originally but ultimately wanted everyone to be happy. Why can't Sumit's parents do the same?
"I'm going to commit suicide right now if you marry her," Sumit's mother threatens. Sumit questions how serious that statement is but backs down, saying he never wants to be the reason for her pain.
"I won't do it," he concedes. His mother smiles. But how will Jenny get her citizenship to stay in India? Sumit claims it will be a "50/50 compromise."
Familiar Threats
Brittany and Yazan meet with translator Adam to further discuss Yazan's familial issues. Brittany asks Yazan if what his brother Obaida said about him being in danger was true. Yazan confirms it and explains that his extended family have been circulating damaging rumors about Brittany.
"There are two things: they might kill me, or they might disown me," Yazan concludes. Brittany voices her frustration, but he can't help his family. He vows to protect her and their relationship, but Brittany is overwhelmed and blindsided by the extent to which his family will go to hurt them both.
Never Giving Up
Back in Mexico, Armando and Kenneth receive news from the Human Rights office about the status of their marriage license. COVID-19 has hit Mexico, and there is a delay in government approval.
"I called so many times that they actually told me to stop calling," Armando tells the camera. Finally, after weeks of waiting, the registry has approved their license.
"We're good to go! I can't f**king believe! I'm very, very happy," Kenneth exclaims through tears. "It's a victory for our relationship, just to be able to stand up and say 'love is love and we're getting married.' I can't wait for the next step to happen…I'm very proud of us for fighting for it, that we didn't just give up. This means that I can marry the love of my life."
Armando and Kenneth go to tell their daughter Hannah the good news. The family hugs, and Hannah tells the camera that she is so happy they're going to be a family forever.
"I love that little girl so much," Kenneth says to the camera. "She's very happy to have two daddies…We really want to be the best family possible."
See Also
There are more than a few familiar faces among these seven couples who traveled the world to find love.
Who's Really Selfish Here?
Ariela, Biniyam, and baby Aviel head to the traditional Timkat holiday honoring the baptism of Jesus Christ. Once at the festival, Ariela starts to worry about how loud and crowded the celebration is, especially with Avi in tow.
"I'm just worried that people will hit him or something," she tells Biniyam as priests hose the crowds down with holy water. The horde of people start pushing towards the water, and Ariela becomes understandably overwhelmed.
Biniyam is less empathetic to her fears. "Maybe Ari is afraid of getting wet, but as it's holy water, I think her evil spirit is afraid of being cast out," he confesses. Let's just let the fact that he called the mother of his child an evil spirit sink in, but the fact that she's wearing a Midsommar-esque headpiece doesn't help.
"You keep pushing my boundaries every time. You're yelling at me now," Ariela anxiously says to Biniyam. "Get your finger out of my face. It's over-stimulating for a baby and I'm not comfortable."
Separately, Biniyam voices his disdain for Ariela to the camera. "Right now, I'm so mad. Ari, she's an annoying person," he complains. "She's selfish and only cares for herself. I don't know why."
A Fast & Furious Wedding
It's Deavan and Jihoon's wedding day, round two. Of course she finds an issue with it, though.
"I'm grateful that Jihoon's parents put this wedding together, but it is a factory-style. Basically you only have the wedding venue for 45 minutes. Once you're done, you have to leave and then boom, the next bride comes in," Deavan says in a confessional. "That's not how I would have wanted it."
She's also stressing because she didn't plan any of it and is unsure if she's even supposed to kiss Jihoon at the altar. Deavan is furious about the customs of Korean nuptials, and even when she sees herself in her wedding dress, she calls the day "disappointing."
"Deavan is losing her temper," her mother Elicia acknowledges to the camera.
Jihoon, per usual, is an uplifting presence and professes his love for his wife upon seeing her. Deavan stops complaining long enough to walk down the aisle. The couple wed again and dance on stage before leaving the venue.
Starting the K-1 Visa Process
Yazan checks in with Brittany to see how she's handling all of the new information. She admires his dedication to her but asks if maybe it would be better for him to move to America instead.
"After learning everything I think it's best for us to go there," Brittany tells him. Apparently she was wary of bringing him to the U.S. originally because she was still trying to determine how serious his feelings were for her. Yazan says he needs time to think things over.
"Jordan is just not working out. If it's going to be dangerous, then it's the time to leave," Brittany warns Yazan.
She considers bringing him over on a K-1 visa; while she's not ready to marry Yazan now, she might be soon and thinks it's worth exploring. Brittany plans on returning to Florida, but Yazan worries she might not want to be with him long-distance again.
Third Time Isn't the Charm
Sumit's father tries to calm down Sumit's mother, and the couple eventually leave Jenny and Sumit's apartment. Jenny calls out Sumit's mom's bluff, but Sumit is still faithful to his parents.
"I cannot choose Jenny over my mom's death," he says to the camera.
"But how sad, our whole relationship just done," Jenny tells him. He suggests finding her a sponsor instead of marrying her to get a visa.
"If I have to go back to the U.S., I'm not coming back to India for a fourth time. If he can't make it happen after three times, then that's enough," Jenny states.
Beachside Bliss
Kenneth takes Armando for a surprise picnic on the beach to celebrate their marriage license. "Now that we have the approval to get married, we're going to be together forever and ever. I love you so much," Kenneth says as they cheers.
"In a way, you've given me just a new chance at life, at happiness that I longed for forever, being my true self and that's thanks to you," Armando cries. "It's just amazing to be free, to open my wings and be free."
Armando does still have to tell his parents about their upcoming wedding, and Kenneth hopes they support him enough to attend.
The couple go horseback riding along the ocean at sunset, and Armando tells his soon-to-be husband that he wouldn't change a thing about their love.
Pre-Breakup Bye Bye
In March, COVID-19 hit Korea, and Deavan shares home videos of their family in quarantine. She also complains that Jihoon is becoming more secluded in their apartment, playing video games instead of hanging out with her or the kids.
"My marriage is kind of on the line. We've been fighting so much and so many differences have popped up that I see in both of us," Deavan explains to the camera. "I feel like the only way to fix my marriage is going back to America for one month."
She continues to say she needs time to reflect on everything that has happened. She is also taking the children when she leaves.
"You just run away from me," Jihoon summarizes, while Deavan maintains she's doing it for their relationship. "Promise me you'll come back?"
She agrees but asks for him to promise that they won't fight once she's back. He says he won't be "grumpy" anymore and he loves her. Jihoon brings Deavan and the kids to the airport and hopes that they'll safely come back soon.
See Also
The TLC franchise gets a new platform where experts and former cast members can shine.
Down on One Knee
Ariela apologizes to Biniyam for asking to exit the crowd. "I just want to spend a little time with you," she says, trying to appease him. It quickly turns into an argument.
"I want to propose to Ari but Ari can't stop nagging me," Biniyam confesses. He brings Ariela and their crying son to his brother's outdoor bar so they can crouch in the heat. Great plan. He of course returns to the Timkat celebrations.
"At the end of the day, I love Biniyam and I don't want to continue this," Ariela explains to the camera as she hands Avi to Biniyam's sister. She returns to the crowd and hugs Biniyam to tell him she loves him. A few minutes later, he proposes.
"This is the coolest proposal of all time, and the fact that we were fighting all day and that I would say yes just goes to show that our relationship is a little like that. Even if we fight, we still love each other at the end of the day," Ariela sums it up.
Brother's Support
Brittany and Yazan meet with his brother Obaida before she returns to the U.S. She asks Obaida to keep Yazan safe while she's away and also announces their plan to apply for the K-1 visa.
Obaida questions Yazan about whether he fully trusts Brittany, and Yazan does have his doubts. All in all, Obaida confirms that he believes Brittany is sincere and promises to protect Yazan from their parents.
The next day, the country announces a COVID-19 lockdown. Brittany has to immediately leave before the border is fully closed. Yazan accompanies her to the airport, and she hopes their relationship can move forward soon.
Picnic Patience
Sumit prepares a picnic for Jenny, two weeks before her visa is up. "I did not expect how things have turned out right now. We are not going to get married at all, not possible, not happening," she tells the camera. "And now I don't know how long I'll stay in the country."
"It was my plan to marry you, but it didn't come true," Sumit says to her. "I really appreciate your patience level as well. You love me truly, that's why you never gave up on me. You never lose hope."
Even though they did not have a formal ring ceremony, he does gift her a promise ring. "I finally got my ring, yay!" Jenny smiles.
The happy couple hold hands as they run from the picnic in the rain. And that, it seems, is the final image we're left with this season: an unexpected conclusion, but beautiful and hopeful nonetheless.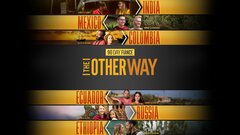 Powered by