HBO Debuts New 'Westworld' Trailer (VIDEO)
HBO presented the latest preview trailer of its upcoming sci-fi series Westworld and, if anything, it has us wanting October 2 to get here as quick as possible.
The series, based on the 1973 movie written and directed by Michael Crichton, takes us into a manufactured world where scientists (led by Anthony Hopkins) have created human replicas to satisfy the whims of its prestigious clients. But what happens when the robots of the Western-themed park show signs of veering from their programmed paths?
With technology playing such a major part of our lives, it's a given that the series—created by Jonathan Nolan (Person of Interest) and Lisa Joy (Burn Notice) and executive produced by J.J. Abrams (Star Wars: The Force Awakens)—will have us thinking twice as we become more and more attached to our smart phones, tablets and laptops.
Besides Hopkins, Westworld's cast including Ed Harris, Thandie Newton, James Marsden, Rodrigo Santoro, Jeffrey Wright, Jimmi Simpson, Shannon Woodward and Evan Rachel Wood.
The latest, lengthier trailer gives us new looks into the world including a chilling scene between Wood (who plays Dolores) and Hopkins (Dr. Robert Ford). Check it out: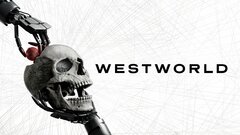 Powered by