'Rosewood': First Look at Eddie Cibrian as East Miami's Newest Police Captain
It seems impossible: The cast of Rosewood is getting even hotter with the addition of Eddie Cibrian (above right) as East Miami PD's newest transfer, Capt. Ryan Slade. Just prepare for Slade to have a cooling effect on the simmering romance between Rosewood (Morris Chestnut) and Villa (Jaina Lee Ortiz, above left).
RELATED: Rosewood Finale: Morris Chestnut on Dancing With His Co-Star and Going Off His Diet
"He's complicated. His charisma is infectious, but he has demons in spades and they present themselves when you least expect it," executive producer Todd Harthan warns. "Slade can be a polarizing man, leading to situations in which Rosie and Villa are on different sides."
Here's where "Rosilla" stood at the end of Season 1:
Rosewood, Season Premiere, Thursday, September 22, 8/7c, Fox.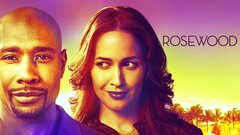 Powered by