'Oprah: Where Are They Now?' Brings All the Feels With Spice Girl Origins and More (VIDEO)
You'll laugh! You'll cry! That roller coaster of emotions can come from no other show but Oprah: Where Are They Now? when this week's episode takes us from the origins of a Spice Girl, two stars of the film version of Grease who are still besties and how not everyone got a happy ending on one classic sitcom.
RELATED: Oprah Winfrey on Her Greenleaf Role: 'It Was Never The Plan'
Saturday's Oprah: Where Are They Now? is sure to give you all the feels with segments featuring Geri Horner (nee Halliwell, aka Ginger Spice), Didi "Frenchy" Conn from the movie version of Grease and Kathy Garver from the '60s sitcom, Family Affair. Also, expect to go back in time to the groundbreaking Yo! MTV Raps with VJ Ed Lover, and find out how Sesame Street star Sonia Manzano, who played Maria for 44 years before retiring in 2015, took a challenge from one of the show's producers and changed her role on the iconic children's series.
RELATED: Big Changes to Expect When Sesame Street Moves to HBO
Check out this clip of Horner explaining how she skipped some audition steps to become Ginger Spice:
And while Family Affair was a lovable family sitcom, this exclusive clip shares the not-so-happy endings for some of Kathy Garver's co-stars.
Oprah: Where Are They Now? airs Saturday at 10/9c on OWN.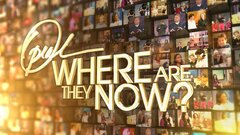 Powered by