'Legends of Tomorrow' Powers Up the DVD Extras (VIDEO)
Season 1 of DC's Legends of Tomorrow jumps onto Blu-ray and DVD this week and just like the gang gathered up by Rip Hunter (Arthur Darvill) to battle Vandal Savage (Casper Crump), this set has some super-powered extras behind it.
RELATED: DC's Legends of Tomorrow Announces New Justice Society Heroes and Legion of Doom Villains
Included on the 2-disc BR set are a gag reel, the complete 2016 Comic-Con panel, a look at the making of the Jonah Hex episode and a tour of the Waverider, as well as featurettes on the various era's visited by the Legends and how Rip's crew came together.
Here's a peek at that package, which showcases each member's specific set of skills.
DC's Legends of Tomorrow on Blu-ray, Digital HD and DVD will be available for purchase Tuesday Aug. 23rd.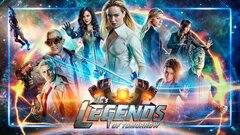 Powered by