Roush Review: The Slow Death March of 'Fear the Walking Dead'
It's raining dead again on Sundays, with Fear the Walking Dead returning to finish its second season of lumbering zombie upheaval. And a week later, FX's The Strain will kick off a third year of urban vampire-invasion apocalypse. Neither show is likely ever to be inducted into the TV Horror Hall of Fame, but at least The Strain delivers a fun ride as it doubles down on its pulpy action-thriller melodrama.
Whereas the end of the world is beginning to feel like slow death on Fear, an uninspired prequel companion to the mega-hit The Walking Dead. Existential ramblings about faith, false hope and mortality often bring the action to a crawl during many a dark night of the soul-searching, now that the main cast has unwisely branched off into three disparate storylines. (Did that strategy ever pay off for the mothership?) Are we terrible people for craving some dramatic momentum here, even at the risk of bad things happening to boring characters?
More Roush Reviews: See What Matt Thinks About Other Shows
In Sunday's opener, when a Mexican acquaintance tells scraggly lone wolf Nick (Frank Dillane), "Things change so quickly now," you might wonder what show she's been watching. Nick is the focus of the entire first episode, becoming more feral by the scene as he shambles along coated in blood to disguise himself from the too-occasional "walker," though as usual it's the humans he really needs to worry about. "I want to be where the dead aren't monsters," he announces in a whiny epiphany. Sorry, dude, you're in the wrong show. (Not that a character this aggravating would be welcome anywhere.)
In Fear's early days, there was a queasy thrill in watching the ensemble slowly catch on to the rising threat of the relentless undead. We knew more than they did, which enhanced the suspense, but now after their California exodus and the tedious boat journey south of the border that took up the first half of this plodding season, they should all know better than to get drunk in an abandoned hotel bar, as Nick's mom Madison (Kim Dickens) and the enigmatic Strand (Colman Domingo) do during an especially self-indulgent, pretentious stretch of next week's second episode.
There are flashes of palpable terror, of course, including a haunting flashback to a doomed wedding, but Fear seems determined to remind us of the diminishing returns that can result in overextending a hot franchise. The good news: In just two months (Oct. 23), the genuine article will return, and we'll find out who survived Negan's wrath, and who didn't. Paraphrasing Nick, I want to be where the monsters aren't dead.
Fear the Walking Dead, Midseason Premiere, Sunday, August 21, 9/8c, AMC.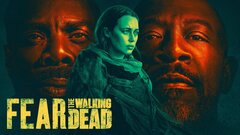 Powered by