Roush Review: Swimming Upstream in 'Industry's Sexy Shark Tank
The shark tank churns nonstop in HBO's Industry, a slick and sexy drama of hotshot upstarts angling to make a bold first impression in the cutthroat, high-stakes world of finance.
First among oppressed non-equals is Harper (Myha'la Herrold), who might as well be auditioning for a future season of Billions. She's a cool and calculating American in London, fudging a shady college résumé to become part of a class of recruits called "graduates." Her fellow grads run the gamut from well-off "princess" Yasmin (Marisa Abela), who despite her beauty and privilege is marginalized to making lunch runs, and working-class Robert (Harry Lawtey), who's mocked for his off-the-rack suits, and later told to his face by one of the more arrogant bosses, "How do you hope to sell financial products if you sound like a miner?" Ouch.
See Also
Up-and-coming financial whiz kids compete, canoodle and at times conspire in this soapy drama set at a prestigious investment firm.
Girls' Lena Dunham directs the fast-paced pilot, which sets a dizzying tone of debauchery amid the deal-making as Industry welcomes its new class of grads, each hoping to survive a six-month probationary period at a ruthless investment firm where the stakes couldn't be higher.
Channeling Wall Street's Gordon Gekko, Harper's bat-wielding mentor Eric (Ken Leung) lays down the law: "Act like an owner. Enrich your clients, enrich us, enrich yourselves." But breaking through the rigid, sexist and class-conscious workplace hierarchy is easier said than done.
Forget earning respect. They're lucky if anyone lets them speak, not that laymen are likely to understand much of the financial gibberish everyone sputters. Little wonder that when these well-tailored wonks blow off steam, this show gets steamy. And then some. As hard and as late as they work, they party harder and later into the wee hours in a cauldron of sex, drugs and profit margins.
Not recommended for those who prefer their TV heroes to be especially likable, Industry is a heady, raunchy rush of unchecked ambition and avarice.
Industry, Series Premiere, Monday, November 9, 10/9c, HBO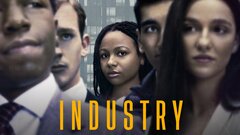 Powered by