'Bob's Burgers': The Fischoeders Make Bob an Offer He Can't Refuse (VIDEO)
The Fischoeders make Bob and offer he can't refuse in Sunday's episode of the Fox fan favorite animated hit Bob's Burgers.
In a special exclusive sneak peek at the installment, "Copa-Bob-bana," Kevin Kline's Mr. Fischoeder and his brother Felix (Zach Galifianakis) return to present Bob (H. Jon Benjamin) with a job opportunity that seems too good to be true. The episode will see the proprietors purchase new building that includes a nightclub.
But Felix, who will run the business, needs a temporary cook and that's why he and his brother wind up at Bob's door. "Hello Bob and female Bob," Mr. Fischoeder greets Linda (John Roberts) as he and Felix enter the burger joint in the clip above.
Confused by their presence, Bob mentions aloud that he thought he'd paid the rent for the month already. As he rambles, he offers the men food to which Felix answers, "I'd love a frittata," before Bob squashes his enthusiasm by countering with a burger.
Then, Mr. Fischoeder gets straight to the point, informing Bob that he's purchased a new building to transform into storage units, but that the basement contains the nightclub that Felix will run. "We want you to be the chef," the men inform Bob, much to his surprise.
Worried about what this might mean, Bob tries to make it clear that he has his own restaurant, but Mr. Fischoeder reassures him, "We'd never dream of asking you to give up all this." Instead, they want to hire him temporarily and in exchange the proprietors will give Bob and his family free rent for the month.
Will he take them up on the offer? Tune into Bob's Burgers this weekend to find out and until then, check out the hilarious clip above.
Bob's Burgers, Sundays, 9/8c, Fox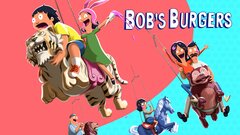 Powered by