'Bizaardvark': Logan Paul Talks About Guesting on Brother Jake's Show (VIDEO)
Jake Paul has done a nice job of leveraging his internet fame (check out his Vine videos) into a Hollywood career; he currently plays Dirk on the new Disney Channel sitcom Bizaardvark. So, when it was time to introduce Dirk's brother Kirk, who better to play him than Logan Paul, Jake's brother and a Vine star in his own right. Logan guests on Sunday's episode.
RELATED: Meet the Cast of Disney Channel's Bizaardvark (VIDEO)
In this exclusive featurette, Logan and Jake talk about how they've gone from being two goofy brothers hamming it up on Vine to acting in a sitcom together. Logan also talks about how he prepared for the role, joking how he has 19 years of experience being Jake's brother.
Watch the featurette below:

Bizaardvark, Sunday, August 14, 8:30/7:30c, Disney Channel.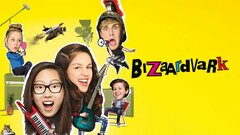 Powered by