Meet the Cast of Disney Channel's 'Bizaardvark' (VIDEO)
For their latest show, Bizaardvark, Disney Channel looked no further than social media for inspiration.
RELATED: Watch An Exclusive First Look At Disney Channel's Bizaardvark (VIDEO)
The show follows Olivia Rodrigo and Madison Hu as Paige and Frankie, respectively, two girls who make fun online videos, and after hitting 10,000 subscribers, they're invited to Vuuugle studios to join a quirky cast of online celebrities to create more. Along with Rodrigo and Hu, DeVore Ledridge and Vine-celebrity Jake Paul star as two other famous vloggers, with Ethan Wacker playing the girls' young agent, Bernie.
RELATED: Disney Channel's Adventures in Babysitting and Bizaardvark Set Premiere Dates
Get to know the cast in this exclusive video, where we find out more about their characters, what their favorite social media platforms are—and what emoji is most like their character.
Bizaardvark, Series Premiere, Friday, June 24, 9:45/8:45c, Timeslot premiere, Sunday, July 10,8:30/9:30c, Disney Channel.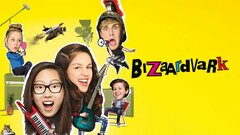 Powered by