Adam Richman on Finding 'Secret Eats' and Why 'Man V. Food' Didn't Make Him Unhealthy
If you just watched Adam Richman on TV and never spoke to him, you'd assume three things about him: 1) he loves talking about food, 2) he loves to perform, and 3) eating tons of food on his first show, Man V. Food, really took a toll on his health.
While the first two things are true, Richman takes pains to explain that the third couldn't be more wrong. "Man v. Food had zero, and I emphasize this, zero to do with the period of my largest [size]," he tells TV Insider. "The show required such physical rigor, such an intense fitness regimen … I mean you would gain weight because you simply couldn't always get out ahead of the caloric deficit. That was just because of the shooting schedule, you're shooting three locations in the city and then you're flying, you go to another place."
Watch an exclusive clip of Richman's trip to Buenos Aires:
Now fit and no longer in the food challenge game, Richman and his crew has been cris-crossing the planet looking for hidden speakeasies, pop-up restaurants and secret menu items for his Travel Channel series Secret Eats, which premieres on August 8. Formerly known as Man Finds Food, Richman and crew have moved from the first season's U.S.-based travels to international destinations like England, Argentina, Poland, Singapore and more.
Unlike Man v. Food, which showed a city's iconic casual eateries, like Pittsburgh's Primanti Bros., "this is restaurants that the locals themselves may not know about. There's something completely visually obscured. Sometimes it's about menu items that are by word-of-mouth or are just meant for those in the know," he says. "It's me saying, 'Actually, do you know that on Mount Duquesne [in Pittsburgh] this house is actually a restaurant?' Then all of a sudden a guy who grew up in Pittsburgh is like, 'Wait. What?'"
In the London episode, for instance, Richman found a pop up restaurant in an antique store, a speakeasy behind a bookcase in a fake detective agency, and an off-menu "duffin" (a donut-muffin, for the uneducated) dessert that required those who ordered it to shake their stuff to get the goods.
How are they finding these places? Lots of homework by Richman and his crew, who he gladly shows on-camera in Secret Eats. "We just comb [through articles about food in a city], and for me I always feel it's like that scene where the pirates get back together at their hideout and they empty their bags of booty and it's literally sometimes a five to six-hour meeting of, 'Okay. It's a place behind a bookcase but only on Wednesdays, and they serve french fries, but only if you're wearing red.'"
RELATED: Travel Channel Going on 12-Hour Road Trip as it Adopts 'Slow TV' Format
Of course, by the time they get to shoot these secret places, the restaurant owners have already given their buy-in. But, even then, having an internationally-aired cable show reveal the secret still leaves the "people in the know" a bit perturbed.
"The idea is that by the time we get there, they understand the exposure. That said, there have been, and I actually wish we could have included it more [on the show], people will be pissed," he says. "I understand it doesn't necessarily make for great TV in 22 minutes, but we will get there and a local would be like, 'You're filming here? I love your stuff but what's this you're doing?'" Richman's response is that the chef can always create a new dish or another secret restaurant will open somewhere. "But you would have thought I just uploaded all your favorite band's songs to iTunes" when people see him filming their favorite secret hangout.
Richman can provoke strong feelings among those who are watcher's of cable's myriad food shows, and when Man v. Food morphed into Man v. Food Nation, where fans took up the mantle of eating volumes of food in the challenges Richman used to take on, many thought it was because Richman wanted it that way. But, as far as he was concerned, they were two separate shows; it's the repeated showings of MvF even after it stopped producing original episodes in 2012 that led to that perception.
RELATED: Bizarre Foods Celebrates Its 200th Ep With Some Philly Favorites (VIDEO)
"It was airing and thank God repeating so well that they never stopped it," he says. "when we had envisioned [MvF Nation] it was the idea that the [trend of taking on food challenges] caught fire and we're going to chronicle it and I'm going to train you and I'm going to be with you every step of the way. "What it ended up being when it was directly literally directly sandwiched next to Man V. Food, it's, 'Oh, it's the same thing it's only Adam's not doing the challenges.'"
While Richman has learned about how his show is being perceived by the public, he also learned that he needs to be careful on social media, after ranting on Instagram in 2014 to people who criticized him for using the hashtag "#thinspiration", a well-known hashtag for the pro-anorexic movement, in reference to his weight loss. The rant caused Travel Channel to delay the premiere of Man Finds Food for six months, and put the show at risk. Mention the incident to him, and he exhales in exasperation.
"You have to be [more careful]," he says. "It's just a matter of awareness. There's just a different set of rules that apply, if you are the representation of yourself but a product or a show or a network, and a show where a lot of people who are unseen do a lot of hard work on, you have an obligation to that brand, the people, and the network that exceeds your own feelings. A greater degree of care and attention must be given to the way your respond. You want the cash and prizes, these are the rules you follow."
Secret Eats with Adam Richman, Series Premiere, Monday, August 8, 10/9c, Travel Channel.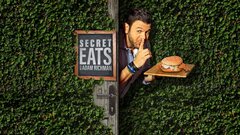 Powered by