'Bizarre Foods' Celebrates Its 200th Ep With Some Philly Favorites (VIDEO)
Bizarre Foods celebrates its milestone 200th episode tonight by taking Andrew Zimmern to Philadelphia to explore classic foods with a modern twist, like Butter Krak candy at Zitner's, German liverwursts, Jewish kishke and two types of doughnuts.
At Paesano's Philly Style, despite being an Irish, chef Peter has an "Italian soul" which helps him elevate the classic Philly cheesesteak to the next level. His Italian cooking background helps him craft his Philly scrapple cheesesteak (a mash-up of pig kidneys, livers and hearts) with fennel seeds, real provolone cheese, a fried egg, pickled hot peppers and oven-roasted tomatoes glazed with vinegar and sugar.
Zimmern also gets to experience Peter's version of a classic Sicilian stigghiola sandwich (pork intestines wrapped around a housemade sausage), which is paired with a ricotta-blood orange marmalade. His unique combination of ingredients combine tradition and taste, all of which is representative of Philly because the food "has balls, it has love, it has integrity."
Watch an exclusive clip of what Zimmern's tasting on tonight's episode, which airs at 8/7c on Travel Channel.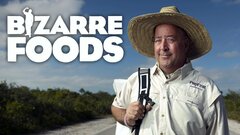 Powered by