'The Prom': Ryan Murphy Sets Premiere Date of Star-Studded Musical on Netflix
Ryan Murphy's adaptation of the musical The Prom has been garnering buzz since it was announced last year, but now the super producer has confirmed to fans that they'll be able to watch it just in time for the holidays with a special message.
"On DECEMBER 11, let Netflix take you to THE PROM you didn't get this year," he wrote on Twitter, alongside a video announcement.
On DECEMBER 11, let Netflix take you to THE PROM you didn't get this year. pic.twitter.com/879qL1de5n

— Ryan Murphy (@MrRPMurphy) September 13, 2020
Previously, the director took to his Instagram to tease the Netflix film's arrival, noting that the star-studded cast managed to finish filming in the midst of the pandemic to bring fans something special just in time for the holidays.
"Meet the incredible icon-packed cast of Netflix's THE PROM," Murphy begins. "A group of true troopers who buckled up and finished shooting during COVID so we could give everybody an inspirational aspirational story that we all need right now. Christmas is right around the corner…"
The musical adaptation follows a theater troupe of self-obsessed stars who travel to a small Indiana town to support a high school girl who wants to take her girlfriend to the prom.
In the cast photo posted by Murphy, fans catch a glimpse of (from left to right, clockwise) Ariana DeBose, Nicole Kidman, Kerry Washington, Kevin Chamberlin, Keegan-Michael Key, Jo Ellen Pellman, James Corden, Meryl Streep, Murphy himself, and Andrew Rannells. Other cast members include Logan Riley Hassel, Sofia Deler, Nico Greetham and Nathaniel J. Potvin.
The Prom, December 11, Netflix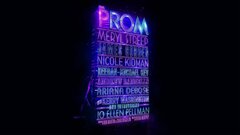 Powered by