'The Prom's Andrew Rannells Previews the Netflix Musical's Star Power
Enough stars to fill a stretch limousine — including Meryl Streep, Nicole Kidman, Kerry Washington, Tracey Ullman and James Corden — light up director Ryan Murphy's ebullient adaptation of the 2018–19 Broadway musical, The Prom.
Even costar Andrew Rannells couldn't believe the call sheet. "I thought I was having a fever dream," jokes theater-trained Rannells (above, with Corden, Kidman and Streep).
See Also
Find out what happens when Broadway stars hit a small Indiana town for Ryan Murphy's highly-anticipated movie.
The foursome play vain New York stage actors who invade a small Indiana town and use their status to champion a high schooler (Jo Ellen Pellman) denied the right to bring her girlfriend (Ariana DeBose) to the dance.
"Ariana, she's so fantastic," he raves of his fellow Broadway performer. "It was so exciting to get to see her, obviously she was also in [Steven Spielberg's remake of] 'West Side Story' before this, that has yet to come out, [so] I loved getting to see her really take center stage. Because when I met her she was in the ensemble of 'Hamilton' and now here she is starring in a huge movie.
Filled with huge numbers and an even bigger heart, the Technicolor tale of love and inclusion required a lot of time. "We rehearsed for about a month before we even started filming," Rannells says. The Girls vet's big song, "Love Thy Neighbor," took almost four days in a crowded mall to pull off.
"I was trying to keep up! The dancers were between 18 and 21, and I was 41," he says. The epic closing sequence required a full week to nail, but it was all worth it, Rannells says: "We got to film the finale last, so it [felt] like a big celebration." Here, the two-time Tony nominee shares his experiences working with the Streep & Company, as well as the thrill of seeing who Ryan Murphy invited to attend The Prom's epic finale.
People always talk about things like "This is something we need today," but honestly, this is something the world needs to see.
I'm happy to hear you say that. I saw it a few weeks ago and was so happy with the way that it turned out. I loved the show on Broadway obviously, but I'm so happy with the way that it all came together. And I think Ryan did a fantastic job of translation from the stage version, and obviously with that that cast, it would be hard to…
This cast!
It's pretty crazy, yeah. [Laughs]
And not just Meryl, Corden and Kidman…there's Tracey Ullman and then Kerry Washington.
I know. With each announcement, when Ryan would tell me, "Well, now this person has joined, and now this person has joined," and it just kept getting crazier. And Tracey Ullman, I have been such a huge fan of hers for so long. And then the day arrived for her to be on set and I was so nervous and excited and I have to say she not only lived up to every fan expectation, but exceeded it. She's so cool and so nice and was just so fun to hang out with. She knew James, and she knew Meryl, but she was just so fun and so funny, and we just laughed the entire time she was there.
She is delightful. This whole thing is so part of your DNA, because you really did come up in Broadway. There are so many inside jokes in this…the non-union touring company of Godspell, just that alone killed me.
[Laughs] I know. I know. That's what I love that Ryan kept all of those jokes in and didn't try to mainstream it in a way that would've of stripped it of that personality. All of those weird inside baseball things that he kept in, I think were so hilarious and all the jokes that Matt Sklar had in there were so, particularly for theater people, were so specific and so weird, and funny so I loved that we got to do all of that.
How long did you guys work on this film?
We rehearsed for about a month before we started filming, which was really great. I assumed that we would have some time just because the musical numbers were so large, but the fact that we actually got to really rehearse [was great]. We started last year around this time actually with the rehearsals. And it was great for a few reasons. One was that when we actually got to those scenes, we all felt like our feet were underneath us and we knew what was happening, but also it gave us a chance to get to know each other. I knew James, so that was just exciting to get to play around with your friend.
But with rest of the folks, it was obviously a little nerve-wracking to jump into a rehearsal practice with Meryl Streep and Nicole Kidman. But it quickly became clear that they were just down to clown. They were there to have a good time and were also such hard workers. And it really just felt like doing a Broadway musical. This is my first time ever doing a musical on film.
I just realized that. How different was it?
It's really different. In some ways, the rehearsal process was very much what I was used to in terms of rehearsing numbers and it all felt very normal. But when it came time to film, it was so different. Not to be boring about it, but it was just an exercise on how to pace yourself. [
I am sure. There has to be so many turnarounds to capture everyone's stuff in each number.
Yeah. My number, "Love Thy Neighbor," that was three or four days of filming and I was trying to keep up with children. [Laughs] Those dancers were between 18 and 21 and I was 41 at the time. I was like, "I still got it. I can still do this," but I was really trying hard to keep up with those kids.
I think you did pretty well. That split is very impressive.
I needed some breaks. I needed some breaks, I'll be honest. Yeah. [Laughs]
The actual big prom number is just massive. That must have been so much fun to have everyone on that soundstage.
It was! Ryan did this really cool thing…a lot of those background actors and dancers were LGBTQ youth that came in and learned those dances. And so on top of them playing these kids from the Midwest who are getting to be themselves and getting to go to this inclusive prom, there was also this sense that they, too, felt very seen in a way that maybe they didn't get to in their careers so far. So it had the exact right tone as we were filming it, because we really did feel like, "Oh, this is an inclusive process." These were actors and dancers that might not always get this opportunity, but here they are getting to do this all together and it was really exciting. It was a really exciting week of filming that.
It's just really lovely. It had me thinking, "God, if I was like 15 and saw this, how different things would have been."
I know. I know. I kept feeling that the entire time we were doing it, that I wished something like this [story] existed when I was in high school. But how great it is to be a part of something that we can share with kids that age now, and that it's over the course of the holidays? I feel like a lot of people will watch it with their families. I don't know, it's exciting to think that families will be sitting down to watch this movie together and if that brings up some conversations that are important, that is so great.
The Prom, Movie Premiere, Friday, December 11, Netflix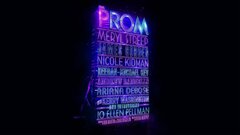 Powered by