Jonathan & Drew Scott Tease 'Brother vs. Brother's Hollywood Renovations
Sunshine, movie stars and…jackhammers!
In Season 7 of the competition series Brother vs. Brother — with twins Jonathan and Drew Scott battling to see who can turn a bigger profit renovating and selling a home — the siblings take their rivalry to a historic Los Angeles neighborhood brimming with Old Hollywood glamour. (The money goes to charity, but the winner keeps bragging rights.)  
"There's a lot on the line," says Jonathan. The 1920s homes are the most expensive they've ever purchased, plus they each have added pressure. Everyone knows Drew has a home-field advantage; he and wife Linda live in the area, Hancock Park. Jonathan selects the fixer-upper next door to the couple's "honeymoon house," making the "no-spying" rule difficult to enforce. 
There's not much to look at initially. Jonathan's house is missing original architectural features that would add character and that "wow" factor. Drew's house, a corner lot dubbed "the storybook chateau" for its fairy-tale vibe, has its own identity crisis.
"There was this big, hideous fountain [inside]. It was like they were trying to make it look like the set of a movie from Roman times," Drew says, noting costly water rot underneath. "Trying to undo all the terrible things that were done to the house over the years, then still keeping its historic charms, is a huge challenge."
In each episode, a fellow HGTV personality pops by to judge their progress in a mini design competition. In the September 9 episode, Build Me Up's Orlando Soria names the best entryway and living room remodel (the loser's punishment is a mortifying blooper reel aired on Entertainment Tonight).
Sabotage will be an issue moving forward. "Drew sent an ice cream truck to my site, and suddenly all my workers cleared out!" reports Jonathan, whose pranks weren't always as successful. "We put water on toilet paper and created snowballs to throw at Drew's house, but then his wife Linda stuck her head out the window." Busted!
Brother vs. Brother, Season 7 Premiere, Wednesday, September 9, 9/8c, HGTV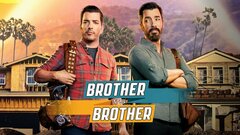 Powered by