'Brother vs. Brother' Season 6: Drew and Jonathan Scott's Sibling Rivalry Heats Up
Drew and Jonathan Scott are in the middle of a fierce debate. During a break from filming Brother vs. Brother: Jonathan vs. Drew on a mid-March afternoon in San Francisco, the HGTV stars are answering TV Guide Magazine's question about whether they're the "face" of the network.
"Maybe Jonathan's the face," quips real estate agent Drew. "My good side's my butt." Without missing a beat, contractor Jonathan shoots back, "You're the butt of most of the jokes."
Since debuting on HGTV with 2011's Property Brothers — one of their five hit shows — the twins have attracted millions of fans thanks to their talent, good looks and friendly trash talk.
That ribbing continues on Season 6 of Brother vs. Brother, the competition that finds Drew and Jonathan each overhauling a house. Every episode, guest judges such as Property Virgins' Egypt Sherrod decide who tackled a particular project better, with prizes at stake (think: a private tour of Alcatraz prison).
In the end, whoever sells his pad for the most profit wins — and all the cash goes to charity. "Jonathan's been staying up till 6am planning so he doesn't lose," taunts Drew, last year's victor. The Scotts let TV Guide Magazine tag along while they worked, and treated us to a glimpse inside their revamped homes. They couldn't help but take a few digs too…
You've filmed previous seasons in Las Vegas and Galveston, Texas. Why pick San Francisco?
Drew: We look for a new challenge every season. In Galveston, we tackled our first waterfront properties. The greater Bay Area has some of the country's most expensive real estate. We wanted to show that, even in a pricey market, you can turn a profit.
Jonathan: For the first time, we bought properties sight unseen.
Drew: What's scarier than that?
Jonathan: Drew has spent so much time here because his fiancée Linda [Phan]'s sister lives here, so he's secretly—
Drew: —been doing recon on where to invest!
What unique issues have you found here?
Drew: Seismic activity. I'm putting in a 600-square-foot basement suite, and I had to take a lot of measures because of earthquakes.
Jonathan: I'd say hillside lots. My house has settling, foundation and drainage issues.
What local elements are you incorporating into your places? Jonathan: Environmentally conscious, sustainable design. My home office shares elements with Google and other Silicon Valley offices: big geometric shapes and bold colors.
Drew: Jonathan's trying to be snazzy. I have an eco-friendly solar panel system. And I kidnapped [Tesla co-founder] Elon Musk and have him in the house.
Jonathan: Note the beads of sweat coming down his head.
What kind of buyer do you imagine you'll attract?
Jonathan: My buyer wants city luxury in a rural setting. The neighbors are goat and horse farmers. You can even have chickens. It's a half-acre, eco-chic hobby farm.
Drew: So pompous! "Come to my hobby farm." The Drew dream house is a California modern ranch: mid-century flair, modern functionality. My buyers want to raise their family in a beautiful area with great schools, but they haven't been able to afford it. Renting out the basement suite offsets the mortgage.
Speaking of the homes, tell us what you're working on now.
Jonathan: I'm making a living wall with moss. It's massive. You only find features like it in multimillion-dollar resorts.
Drew: I'm working on the master bathroom. I have glass walls for the shower, so the floor and wall tile become features. The color combinations, shapes and patterns can create art.
You guys are known for pranking each other. What stunts have you pulled this season?
Jonathan: My general contractor yells, "Move the vehicles! They're ticketing." We run out there and there's a "cop," dressed like he's from Reno 911!
Drew: I had tickets on all their dashes, and he freaked out!
Jonathan: My prank was more like sneaking around.
Drew: He was up on a hill behind my house. And he's in a camouflage outfit spying and trying to find out information. The funny thing is, I was at a point in the renovation where there's nothing for him to find out about my place — it was construction.
You do dozens of renovations a year. Where do you find the energy to keep going?
Drew: We can sleep anytime, anywhere.
Jonathan: I can sleep standing up. I sometimes sleep with my eyes open.
Drew and Jonathan: Creepy!
Can fans tell you apart?
Drew: Ever since I did Dancing With the Stars, yes. I dropped 34 pounds.
Jonathan: People say, "Drew, you're in such good shape!" I'm like, "I'm the fat one now?" But if I ever commit a crime, I'll say I'm Drew so I won't go to jail. That's my goal.
Brother vs. Brother: Jonathan vs. Drew, Season Premiere, Wednesday, May 23, 9/8c, HGTV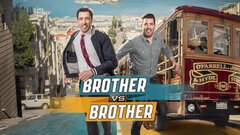 Powered by