Thursday Can't Let Go of the Towpath Killer Case in 'Endeavour' Episode 2 (RECAP)
Raga
Season 7 • Episode 2
[WARNING: The following contains MAJOR spoilers for Endeavour Season 7 Episode 2, "Raga."]
You'd think the English city of Oxford would be a relatively safe and stable place to live. After all, it's where the elite send their children to get a top-drawer education. But walking along the canal towpath at night in Endeavour's Oxford of 1970 is looking as sinister as taking a stroll through Jack the Ripper's London.
At the end of the first episode, Detective Sergeant Endeavour Morse and Detective Chief Inspector Fred Thursday (Shaun Evans and Roger Allam) were certain they'd caught the towpath killer, but another murder – this time of a man who had been exposing himself to women – has Thursday wondering if the culprit is still out there.
There's a bit more for viewers to wonder about too. PBS is now showing the episodes in their 90-minute entirety, stretched out over a two-hour block. In seasons past several minutes were cut so that plugs from Masterpiece sponsors could fit into the hour and a half Endeavour was scheduled for. Now we get those, plus behind-the-scenes extras and previews. It's the same treatment PBS gave to Sherlock after its popularity soared, so it's nice to see that a crime drama with less flash merits the same respect.
And it means viewers get to see more of the characters when they're not working cases, like Chief Superintendent Reginald Bright (Anton Lesser), who has been trying to help his wife (Carol Royle) in her battle with lung cancer. Because while I love writer Russell Lewis' mysteries, I also cherish the scenes in between the uncovering of clues and the interviewing of suspects.
"Raga," the second episode of Season 7, has such gems as Thursday's wife Win (Caroline O'Neill) taking in a wrestling match with her friend Bridget (Flora London). And hang on, is that Thursday at an adult film?
Jim Strange (Sean Rigby), meanwhile, is trying to hone his culinary skills with a book called Cooking for Seduction and a TV food program. The detective sergeant is my kind of cook: He tastes his meal, makes a face, then picks up the phone and orders dinner.
The Indian restaurant he orders from, the brilliantly named Jolly Rajah, becomes the focus of one of the deaths the detectives at the Castle Gate police station look into. Mr. Aziz (Raj Awasti), a Pakistani deliveryman, has disappeared (but fortunately he brought Strange his food first). Police question members of the family that owns the restaurant, including patriarch Uqbah Sardar (Madhav Sharma), who's been showing signs of dementia; his brother Rafiq (Pal Aron); and one of Uqbah's sons, Salim (Shane Zaza).
Soon Morse finds Aziz's body in the bachelor pad of Oberon Prince (Neil Roberts), the TV chef and author Strange was trying to learn from the night before. The address is where Aziz was supposed to make his last delivery, but Prince dined at the Jolly Rajah that night. Why would he then order takeout? Was Aziz targeted because of his race?
It's not the only crime Morse and Thursday have to deal with. They're also looking for a young man named Gary Rogers (William Allam), in connection with the stabbing of a Pakistani teen, but his mother, Hazel Radowicz (Rebecca Saire), who found blood on her son's clothes, won't let them in the house without a warrant. Side note: This marks the second time this season that an episode of Endeavour has turned into a family affair. Saire is married to Roger Allam in real life, and William is their son.
Outside of work, Morse is still fixing up his home (and looking rather adorable in his coveralls), in between breaks for crossword puzzles, beer and cigarettes. His opera-loving pal Ludo (Ryan Gage), oozing his overzealous charm, has news: His wife Violetta (Stephanie Leonidas), the woman Morse had a fling with in Venice before he met Ludo, has left him again! But when Morse goes to Ludo's for dinner, Violetta's back, and she's still carrying a torch for the detective.
Thursday, meanwhile, can't let go of the towpath killer case and has even taken to wandering around the canal at night, where he hears mysterious whistling. One night he finds Uqbah confused and lost. In a heartfelt scene between the two men, Uqbah reveals the pain of someone whose mind is betraying him: "I feel like I'm fading, like there's darkness at the edge of sight, slowly creeping in."
Morse and Thursday are finally able to interrogate Gary about the stabbing. Even though the young man is the son of a Polish immigrant and faced bullying at school until he changed his name, he's also an acolyte of Martin Gorman (Jason Merrells), a racist politician with an anti-immigrant agenda running in the general election. Gary denies involvement, and the police release him. But after the Pakistani teen dies from his injuries, his mates take revenge and stab Gary, who ends up on a table in the morgue, with his mother crying over his body. Gorman, of course, tries to use Gary's death to further his agenda.
As the police continue to search for Aziz's killer, Prince's body – or at least parts of it – turn up in a suitcase, and they learn that the chef was a big gambler. They're able to trace two of Aziz's delivery calls to a phone booth outside the restaurant.
Morse realizes the killer of both Prince and Aziz is someone who worked at the Jolly Rajah who didn't know Prince had eaten there that night and wouldn't think his ordering delivery would be suspicious: Uqbah's brother Rafiq, who killed Prince because he owed him money for gambling debt and Aziz because the deliveryman knew Rafiq was skimming money from the restaurant.
Cases closed, save one. Morse learns that Thursday has been trailing Carl Sturgis (Sam Ferriday), still convinced he's the towpath killer, and they have another tense confrontation in which he orders him to let it go. At least we now know why Thursday went to the X-rated film.
Later, Violetta shows up on Morse's doorstep, and they rekindle the passion they shared in Venice. And while Thursday is home tending to his canaries, there's another murder on the towpath: Win's friend Bridget is killed!
Endeavour, Sundays, 9/8c, PBS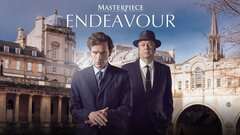 Powered by