'Endeavour' Season 7 Premiere: 'This Is a Story About Love' (RECAP)
Oracle
Season 7 • Episode 1
It was almost a fairy-tale ending. Season 6 of the great British mystery series Endeavour concluded with our four favorite Oxford cops being reunited at Castle Gate CID. Having rid the Thames Valley Constabulary of corruption, they would once again be solving cases together.
But when Season 7 began on Masterpiece, it took only about 15 minutes for tension to arise between Detective Sergeant Endeavour Morse (Shaun Evans) and his partner, Detective Chief Inspector Fred Thursday (Roger Allam), over the murder of barmaid Molly Andrews on a canal towpath.
The killing happens on New Year's Eve 1969, when "Oracle," the first of three episodes, and one directed by Evans, opens with flash-forwards that show Morse with a gun and then blood on his shirt, plus a voiceover that promises, "This is a story about love." It's also a mystery for a future episode.
For now, Morse is in Venice, attending a rather sad opera by himself (is there a more Morse-like way to ring in the new year?). But he doesn't end the evening alone — he ends up in bed with Violetta (Stephanie Leonidas), a seductive woman who was also at the opera.
Back in Oxford, Thursday and Detective Sergeant Jim Strange (Sean Rigby) investigate the young woman's murder, and Thursday tells their boss, Chief Superintendent Reginald Bright (Anton Lesser), that he's certain the young woman's boyfriend, Carl Sturgis (Sam Ferriday), is the culprit. He just doesn't have evidence to prove it.
There's a time jump to May, and the towpath killer case remains unsolved. Morse isn't so sure it's the boyfriend and doesn't hesitate to call Thursday's investigation "pedestrian" in front of their colleagues.
It's not a very nice way for Morse to treat the man who mentored and believed in him, but it seems that loss and disappointment are changing him. Months later, he's still caught up in the memory of his New Year's fling, and the contrast between that bright Italian holiday and the gray world of death that is so much a part of his life in Oxford. He listens to opera, does crossword puzzles and broods as he fixes up the home he bought at the end of last season.
At least Morse may have a fresh lead in the towpath killer case. A young scientist at Oxford University, Naomi Benford (Naomi Battrick), contacts him saying she might have some information, but when they meet up the next day at an equal rights conference where Naomi is volunteering, she doesn't want to speak to the police without first checking with someone.
Morse runs into Oxford Mail journalist Dorothea Frazil (Abigail Thaw) at the event, and their interaction leads to one of this episode's memorable lines when the detective queries, "What is it that you're all hoping to be liberated from, exactly? Is it just the dishes, or light housekeeping in general?" Her reply: "Patriarchal hegemony, in the main. Freedom from the tyranny of the squeezy bottle is just an adjunct."
The setting also brings about a fun moment of generations colliding when Dorothea is introduced to one of the event's organizers, Sally Alexander (Molly-Mae Whitmey). Thaw is not only the daughter of John Thaw, the celebrated British actor who played the older Morse in the original Inspector Morse series, she's also the offspring of the real Sally Alexander, a feminist and organizer of this actual women's rights conference, which took place in Oxford in 1970. Whitmey is Abigail Thaw's real-life daughter, so she got to play her own grandmother.
Returning to the story, the tuxedo-clad Morse goes to an alfresco classical music recital, where, after having his pocket picked, a curious posh chap called Ludo (Ryan Gage) comes to his rescue. Ludo claims to have been at Oxford at the same time as Morse, but doesn't give much away about where he's from and what he does. "I prefer to say I'm a man of the world," he tells Morse as they bond over dinner in a dimly lit restaurant.
Still, something seems off with the smooth-as-butter Ludo. He pays Morse an unexpected visit later, and they drink wine and talk records. (Slash fiction writers could have a field day with these two!) But he seems unusually captivated by crime scene photos the detective has lying around, although he says it's because they remind him of the body of a girl he once found.
While Morse enjoys his new friendship, Thursday tries to bring some joy into his own life with a couple of birds. No, not a pair of attractive young women, but two actual canaries that he hopes will keep the demons at bay.
But there's another death he has to deal with. Naomi is found dead at the university, and the police wonder if the same person who killed Molly Andrews is responsible. They learn that she was conducting research into ESP, and dealing with professional jealousy and some deep-seated male chauvinism.
"On the whole, I think women are too emotional for the life scientific," Professor Donald Blish (Angus Wright), who quarreled with her before her death, tells them. "They just get under your feet in the lab. If they're not crying about who they do love, they're crying about who doesn't love them." Oh boy! So much for the good old days!
Morse and Thursday manage to track down Jenny Tate (Holli Dempsey), a young woman who was working with Naomi and who claims she "saw" the New Year's Eve killing. She knows that the killer took Molly's necklace, information that wasn't released to the public, but she can't point them to a specific culprit. She does sense Morse's sadness, but do you really need to be psychic to recognize that?
Anyway, Morse doesn't need ESP to catch a murderer; he's got a fountain pen! Specifically, the fountain pen found under Naomi's body, which has a splayed nib (something that sounds dirty, but isn't). He compares it to some things Blish signed off on and realizes from the way it writes, it's his pen.
That conclusion comes just in time, because Blish, fearing that Jenny "saw" him struggle with Naomi, who plummeted over a stair railing to her death to get away from his sexual advances, tries to strangle Jenny with his tie when the police burst into his office. He later confesses to Naomi's death, but not Molly's, though the police charge him with both killings.
Now there's a tentative truce between Morse and Thursday, who admits he was wrong about the towpath killer, but Morse turns down his offer of a drink to go to a party at Ludo's grand estate, where he sees a familiar face: Violetta, his Venice lover from New Year's.
They lock eyes, then Ludo is by her side with one of the biggest shockers of the episode. "Morse, come and meet my wife," he says.
The biggest shocker comes in the next scene, after dark on the towpath. There's another murder, this time it's a man who had been pleasuring himself. Morse and Thursday already have another case on their hands, or maybe it's just a continuation of one they thought they'd closed.
Endeavour, Sundays, 9/8c, PBS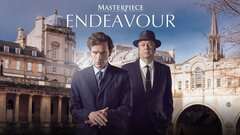 Powered by