Best Job Ever or Potential Disaster? 'Today' Team Heads to Rio for the Summer Olympics
They're not just covering the personal stories behind the XXXI Olympiad. They're also covering the evolution of the human species. Matt Lauer will lead a reporting team at the Summer Games in Rio de Janeiro that includes his fellow Today hosts Hoda Kotb, Billy Bush, Al Roker and Natalie Morales, and he's confident that several once-unfathomable records will be set.
"This is not your grandfather's Olympics," says Lauer. "Training methods are now so sophisticated—as is the science of nutrition—and athletes are pushing themselves so much harder that history is guaranteed to be made. Human beings will do what was once considered impossible."
But it's not all triumph. "Competing in the Olympics requires such sacrifice and heart and fire that every athlete's personal story is like a mini-movie," says Kotb. "You can walk into the Games unknown and walk out a legend, or all your dreams can be dashed when you lose by a tenth of a second. There's nothing like it."
And viewers really need the distraction right now. "We're living in a crazy world where every day there is yet another unbelievable and often tragic news story," Kotb says. "It's like we've all been having the same sad conversation for months on end. But the Olympics is that rare event that brings the world together in a happy way. It's a reminder that we're all on this planet together."
Still, the hosts must prepare for any eventuality. Savannah Guthrie, who is pregnant, will continue to anchor Today from New York. "But we're all on call if there's big breaking news," says Lauer, who was pulled away from the 1996 Olympics in Atlanta when TWA Flight 800 exploded and crashed off the coast of Long Island, New York.
"Then, 10 days later, came the bombing at Centennial Olympic Park," Roker recalls. "Whatever happens, we have to roll with it. Today is first and foremost a news program, and the news will get covered."
How are the hosts keeping their heads together with the onslaught of bad Rio PR? "From the Zika virus to water pollution to political unrest, we've all heard stories that should give anyone cause to be concerned and vigilant," says Billy Bush. "But we've had security briefings. NBC is updating us constantly. I head to Rio with 100 percent enthusiasm and zero anxiety."
Natalie Morales, who is half-Brazilian, says, "We expect that Brazil has done all it can to ensure everyone's safety. These challenges are nothing new to the country, but the people are very proud and positive. They will make sure everyone leaves with a great and lasting impression."
Besides, aren't prophecies of doom just part of the Olympics experience? "Horrible things are always predicted at the Games," Roker says. "And they don't ever happen. But here's what does happen: great stories and good times. And, in our case, probably a little too much drinking."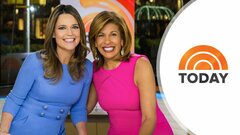 Today
where to stream
Powered by