'Yellowstone' Drops a Bombshell on Jamie (RECAP)
The Beating
Season 3 • Episode 7
[Warning: The below contains MAJOR spoilers for Season 3, Episode 7 of Yellowstone, "The Beating."]
It was definitely one of those days.
But hey, at least Kayce (Luke Grimes) is the Dutton son who's Livestock Commissioner, because it is really hard to imagine Jamie (Wes Bentley) anywhere but behind a desk. Plus, Jamie has something much more important to think about at the moment, though considering he's now attorney general and the family's facing losing its land, maybe it's not the best time for his focus to be divided. Whether or not that becomes a problem is for another episode.
Meanwhile, poor foreman Rip Wheeler (Cole Hauser) gets stuck taking ranch hand Jimmy's (Jefferson White) girlfriend Mia (Eden Brolin) with them on a road trip, but he does have quite the nice surprise waiting for him at home.
Taking Matters Into Her Own Hands
While Rip takes Jimmy — with Mia tagging along to help her injured boyfriend and talk Rip's ear off — to show him why he shouldn't rodeo anymore (the dangers, especially with wild horses), Beth (Kelly Reilly) accomplishes quite a bit with her day. She meets with Angela Blue Thunder (Q'orianka Kilcher) about the Duttons and chairman Thomas Rainwater's (Gil Birmingham) common problem — Market Equities — and both know they're going to have to get their hands dirty to keep the land from ending up in the wrong hands.
Beth also stops by the lodge to see her father, and John (Kevin Costner) knows she's going to marry Rip. He also knows that Rip will never ask her because he'll never ask John for her hand. (He won't want to put John in that position.) That means Beth has to be the one to ask, her father says. "Can he have my hand?" Beth asks, and since she loves Rip and he makes her happy, John says yes.
But he's also sorry, he adds, "that you thought you couldn't come to me, that you thought I'd be ashamed or you'd be in trouble for it or whatever you thought. I'm the one safe person in this world you can turn to for anything, and it breaks my heart I didn't make you know that." (When Jamie took Beth for an abortion when she was younger, he didn't tell her she was going to be sterilized at the clinic on the reservation.)
And so when Rip returns from his trip with Jimmy and Mia, Beth gives him a ring. All he needs is her, not gifts, he says. "That's what it means," she explains. "It means that you have me, that I'm yours. … We're getting married."
There's only one problem: he can't go to a courthouse because there's no record he exists. A marriage license is "just a contract," she says. "Marriage to me is you take me in front of those mountains, in front of my family … stand in front of them and tell them there is no more you and I, there's only us." He says yes! Let's just hope the Duttons haven't lost their land before they get around to having that ceremony.
Another Tragic Day at the Office
Kayce, Ryan (Ian Bohen), and Agent Hendon (James Jordan) spend their day tracking down cattle that were stolen from their field; they know that the thieves would wait to change the brand and sell the cows in another state, but they'd want to offload the calves ASAP.
Kayce is at the exact barn the guy plans to do just that when he shows up, and the Livestock Commissioner hops on a horse and lassoes the driver around the neck when he tries to take off. But this guy didn't do this alone, and either he gives Kayce a name and address or it'll get very painful for him…
Meanwhile, Wade Morrow (Boots Southerland) and his son, Clint (Brent Walker), show up at the diner when John's just trying to get a rare steak. When Clint makes a move towards him, John easily tosses him aside before turning to his old friend. The Dutton patriarch gave him a job and a place to call home for the rest of his life, and now Wade's stolen the one thing a cowboy doesn't steal? Wrong move. It's just a matter of time before the tension bubbles over between these two.
Kayce, Ryan, and Hendon track down the rest of their cattle, but the man inside the home shoots out at them. Ryan and Hendon are both hit — fortunately, not fatally — before Kayce fires a shot of his own. But as he's waiting for an ambulance, he hears a noise and sees the man's daughter crying over his dead body.
Has Jamie's Entire Life Been a Lie?!
Jamie's blindsided when he has to get a certified copy of his birth certificate to ratify his appointment as attorney general … only for the clerk to scold him for making her job harder for her by not telling her he was adopted. He insists he wasn't, only for her to show him his birth certificate — James Michael Randall — and the adoption papers. She also has a file that may explain why John never told him: a criminal court record. His father, Garrett Randall, was convicted of murder in the second-degree. He killed Jamie's mother.
When Jamie returns to the office, he has his assistant dig into Garrett Randall to see if he was ever paroled. If he was, he wants her to find out everything about where he is.
As soon as Jamie arrives home, he confronts John: "You always preached the truth. You said it's all a man has, his word, judge him by nothing else. Are there different rules for judging you or some other definition of truth I'm unaware of?" Every time he calls him "son" or Jamie calls him "father," he sees it as a lie.
But John has some harsh truths for the man he raised. "When a bull breeds a cow, we don't call the calf its son. The bull's a sire, the calf's its offspring, that's all. The cow is the mother because she fed it, protected it, cared for it, loved it. She deserves to be called mother, but the bull is just a bull, that's all he'll ever be," he explains.
Jamie's biological mother never had that chance; Garrett beat her to death with a shower-head when Jamie was only three months old. But the Duttons — John and his late wife, Evelyn — are the ones who loved and cared for him. "I protected you. I taught you. I guided you. I gave you love and kindness and everything your future was guaranteed to be without," John explains. "I will call you son because I've earned the right. And earning it has been the hardest thing I've ever done."
And now Jamie's in a position where he can find out what life would be like with different parents. He can find Garrett, look into his "black f**king heart," and decide who his father is, John suggests. Chances are he will, but let's just hope this doesn't end up backfiring on the Duttons somehow.
Yellowstone, Sundays, 9/8c, Paramount Network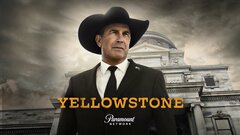 Powered by