Move Over Khaleesi: Disney's Newest Princess, 'Elena of Avalor', Soars Into History
She looks pretty darn good for 57! The new Disney Channel animated series Elena of Avalor features Disney's very first Latina princess, a frisky 16-year-old who was orphaned by an evil sorceress and kept in a state of suspended animation for 41 years. Now she's free and ready to rule her kingdom. And she's not waiting for some Prince Charming to show up and complete her.
"Elena is a wonderful reflection of what's happening in our society right now," says Aimee Carrero, a star of the Freeform comedy Young & Hungry who provides the character's voice. Like other Disney princesses of color—Pocahontas, Jasmine, Tiana, Mulan—Elena is "the hero of her own narrative," Carrero says. "That's incredibly empowering to young women who feel underrepresented in mainstream culture. Growing up, I mostly identified with the Disney princesses who embodied what I so badly wanted to be—bold, autonomous and self-assured."
RELATED: Meet Disney's New Princess (VIDEO)
Elena is so cool she even gets her Khaleesi on with a trio of winged jaguars, who help her out of tight spots. And the Game of Thrones riffs don't stop there. Because mythical Avalor is a port kingdom and center of trade, creator and exec producer Craig Gerber has built an entire world around Elena so she can mix it up with a variety of international monarchs, voiced by the likes of George Takei, Aasif Mandvi and Echo Kellum. That world further expands this fall with a Disney Channel movie, Elena and the Secret of Avalor, which will link this series to the Disney Junior hit Sofia the First.
"Until Elena, no Disney princess has been in a leadership role," Gerber says. "She has huge responsibilities, yet she's a believable and relatable teen—adventurous, headstrong, a little overconfident."
The series blends myths and legends from throughout Latin America and has an original song score heavy on salsa, mariachi, Latin pop and Chilean hip-hop—all with a Disney twist, of course. "We even do a merengue number about El Dia de los Muertos," Gerber says. "It's the happiest song about death you'll ever hear!"
Elena of Avalor, Series premiere, Friday, July 22, 7/6c, Disney Channel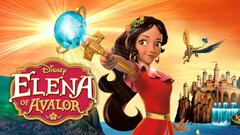 Powered by