Look Who's a Disney Villain! Jane Fonda Stars in 'Elena and the Secret of Avalor' (VIDEO)
When you need a great Big Bad you get a great actress. Two-time Oscar winner Jane Fonda will play the evil sorceress Shuriki in Disney's Elena and the Secret of Avalor, a TV movie event premiering Sunday, Nov. 20 (7/6c) in a special simulcast on Disney Channel and Disney Junior.
The movie, a prequel to the hit Elena of Avalor series, reveals how the title characters was imprisoned by the conniving Shuriki in a magic amulet and was eventually set free by the heroine of another hit Disney series, Sofia the First's Princess Sofia of Enchancia.
RELATED: Disney's Newest Princess, Elena of Avalor, Soars Into History
Here's an exclusive preview of La Fonda in action!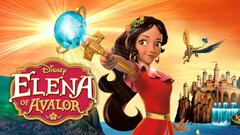 Powered by