'Bones' Boss on Hodgins' Latest Health Twist
Warning: this post contains spoilers for the Bones episode, "The Jewel in the Crown."
Bones' Hodgins (TJ Thyne) "foreshock" was actually a potential life-changer: the items being disturbed in the lab were actually disturbed by him—Hodgins is regaining movement in his formerly paralyzed legs.
Hodgins' new life in his chair had been a difficult adjustment for him to make—and had led to a strain on his marriage to Angela (Michaela Conlin)—but this step "gives him a little bit of hope," Bones executive producer Michael Peterson says. "But at the end of the day, his journey is far from over, I think that really is the key to it. There is some movement: what does this mean for him?"
Related: Bones boss previews the terrifying Season 11 conclusion
But fans shouldn't automatically assume this step will lead to Hodgins regaining his full mobility again. "The story is not necessarily going where you'd think it might," Peterson says.
The storyline was one that ended up being adjusted when the writers sat down to arc Season 12—the show's swan song. "We have new voices in the room," Peterson says. "We have the return of old voices—one of my favorite writers ever, Karine Rosenthal, who was with the show when I first started and then took a couple of years off—she's coming back for the final season. Which was just absolutely a joy; it's been great having her in the room. And it's great having someone who has been there since the very beginning to bounce ideas off of."
"I think for Hodgins, in particular, his journey has been impacted by having Karine in the room and adding good perspective of what we should do moving forward," he continues. "The long and short answer is it was going one direction, we brought in new voices, and I think we found a better way to go with his character."
Bones, Thursdays, 8/7c, Fox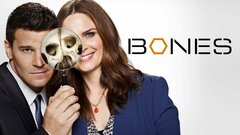 Bones
where to stream
Powered by