'Bones' Boss Previews Season 11's Terrifying Conclusion
Who's pulling the gruesome strings? Bones closes out the season by revisiting a mysterious serial killer (introduced in April) who turns his victims into puppets.
With no real leads on how to catch the suspect—and Brennan (Emily Deschanel) feeling guilty that the first victim's remains turned up while she and Booth (David Boreanaz) were temporarily retired—"we get to deal with some of the more psychological elements [of the job] than in other episodes," executive producer Michael Peterson says. "Brennan's having nightmares, manifestations of guilt. Her dreams are trying to tell her something about who this murderer might be."
RELATED: Bones: Was the Jeffersonian Hit by a Foreshock? (VIDEO)
Although Booth and Brennan have solved hundreds of cases together, this foe is different because "he's a manipulative bastard," Peterson explains. "He is in control the entire time. He wants you to assume things that might not be true."
In fact, things get so bad that fans should be wary about the "facts" presented to them in the finale. "Hodgins [TJ Thyne] says, 'This guy is so manipulative, I don't know if we can trust the evidence being placed before us,'" Peterson says. "Just because you think it's going in one direction doesn't mean it is. Even into this episode, be careful of the assumptions you make, because the killer is manipulative: he wants you to think one thing, but it might not be true."
RELATED: Bones: Hart Hanson on Returning to Write the Series Finale
And while the finale will give the Jeffersonian team their best chance at discovering the killer's identity, "his whole story is going to continue," Peterson warns. "I'd make sure you're cuddled up with somebody, because this is certainly one of the scarier episodes of Bones you'll see."
Bones, Season Finale, Thursday, July 21, 8/7c, Fox.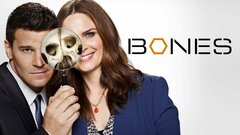 Bones
where to stream
Powered by