Why TV Fans Should Be Watching John Krasinski's 'Some Good News'
Coverage of the COVID-19 pandemic has overcrowded TV screens for several weeks, leaving people stuck at home longing for something new and positive to watch. John Krasinski has stepped up to the challenge.
The actor created the weekly YouTube show, Some Good News, hoping to bring some positivity during these difficult times. Whether you are a fan of his work or just looking for something to lift your spirits, there are several reasons why any TV fan should tune into Some Good News!
See Also
In appreciation of the late-night hosts who keep us smiling with their at-home shows during this difficult time.
Showcasing actual "good news"
Given the title, viewers can expect, as Krasinski puts it, "a news show dedicated entirely to good news." It follows a similar setup to many late-night shows, such as Late Night with Seth Meyers, where viewers are given a rundown of the latest news in a lighthearted, comedic way. While Krasinski is a well-known "funny guy," he brings a deep sense of passion to his new project. He does not shy away from the seriousness of the COVID-19 pandemic but is deeply genuine in showcasing all of the good that has come from it.
Almost every news channel is covering the pandemic 24/7, often focusing on the darker happenings of the world's new daily life. Instead, Krasinski focuses on highlighting anything from medical workers on the front lines to people showing their support in various ways, as well as personal stories of people who are making the most out of their current situations. Nothing will warm your heart like seeing a husband singing to his wife from outside the window of her nursing home room.
Making new friends
One of the most heartwarming parts of Some Good News is Krasinski's interviews with his "new friends," each being someone who's affected by the pandemic in some shape or way. In Episode 1, he speaks with Coco, a young girl who was welcomed home from her last chemotherapy treatment by family and friends with a social distancing parade. He called her his "newest hero."
Episode 2 features Aubrey, another young girl who was supposed to see Hamilton on tour but was unable to because it was canceled. Instead, Aubrey and her family opted to watch Mary Poppins Returns while remaining safe at home. Little did she know that her appearance on the show would lead her to get "some good news" of her own (more on that later)!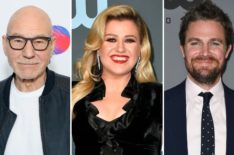 See Also
Find out why these stars are worth following right now.
Unlike typical news or late-night interviews, Krasinski's are genuine conversations about overcoming hardships. He's not trying to get any information or gossip from the guests. They are there because the world deserves to hear their stories and celebrate their achievements. Krasinski uses his platform to highlight good people who do good things, and that's what makes the show so great.
Celebrity appearances
Every talk show needs guests, and Krasinski pulls out all the stops. The show started with a bang, as he interviewed his former co-star, Steve Carell, and chatted all things The Office in celebration of its 15th anniversary.
As if he couldn't top that, Episode 2 featured his wife, Emily Blunt, and Lin-Manuel Miranda, who brought the original Broadway cast of Hamilton with him for a surprise performance of "Alexander Hamilton" for Aubrey, leaving her and viewers speechless. We, of course, can't forget Robert De Niro's blink-and-you-miss-it weather report!
Krasinski uses his connections to give viewers some truly special interviews, full of both hilarity and fan service.
Only two episodes in, and Some Good News has proven how powerful spreading positivity can be. TV fans should put their faith in John Krasinski to deliver what the title of his YouTube series promises amidst the chaos and hardships of life during the COVID-19 pandemic.