What's Worth Watching: 'UnReal', 'BrainDead', 'Odd Mom Out' and more for Monday, June 27
UnReal (10/9c, Lifetime): This is going to be juicy. (When isn't it on UnReal?) After learning that Rachel (Shiri Appleby) went over her head to the network boss, Quinn (Constance Zimmer) senses "Treason"—the name of this week's episode—and confronts her underling-turned-partner. Against all odds, this would seem to put Quinn and nemesis Chet (Craig Bierko) back in cahoots, despite their ongoing antipathy. And back on the reality show-within-the-show, "suitor" Darius (B.J. Britt) reveals his secret to Rachel, which could have implications for his future on Everlasting.
BrainDead (10/9c, CBS): I get that this show is polarizing. (The argument usually being: What are the Good Wife producers doing making a sci-fi spoof about space bugs invading politicians' heads?) But how can anyone not love those singing recaps, even if what they're recapping is undeniably over the top. Which continues into the third episode, as a talking head literally explodes on live TV. Which many of us are probably surprised hasn't happened yet during this political season.
Inside Monday TV: No Gwyneth jokes, please. Blythe Danner (aka mom of Ms. Paltrow) and Dan Hedaya play Jill's parents on Bravo's very funny Odd Mom Out (10/9c), arriving in the city to atone. … Documentary alert: With tongue in cheek and banjo in hand, environmental activist Josh Fox (Gasland) travels to 12 countries on six continents to explain to us How to Let Go of the World and Love All the Things Climate Can't Change (9/8c, HBO). … Joshua Oppenheimer's Oscar-nominated The Look of Silence, premiering on PBS's POV (10/9c, check local listings at pbs.org), is a companion piece to the similarly acclaimed The Act of Killing, and bears witness to state-sanctioned evil as it shows an ordinary man confronting the unrepentant murderers of his brother, a victim of General Suharto's Indonesian death squads.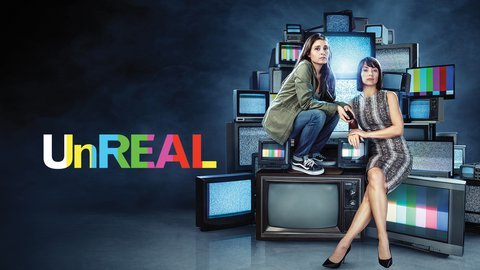 UnREAL
where to stream
Powered by