B.J. Britt on Being 'UnREAL's Newest Bachelor
TV finally has its first black bachelor—even if he is on Everlasting, the fake reality show within the soapy, sexy Lifetime drama UnREAL. But as scandal-plagued football star turned suitor Darius Beck, B.J. Britt is finding out that scoring is tougher than it looks.
Even though he's doing the show to repair his image, Darius is not a bad guy.
You are my new best friend! Thank you for pointing that out. He's not a bad guy at all. He just got caught up in a bad situation and said the wrong thing to a female reporter.
RELATED: Mr. Robot, The People v. O.J. Simpson and UnREAL Lead TCA Award Nominations
Will he get past his reluctance to do a reality show and embrace this opportunity?
He did come onto Everlasting kicking and screaming, but now that he is there, he decides to make the best of it. Rachel (Shiri Appleby) has already started to get in his head … And you'll start to see him come to terms with being on the show. You know, it's where he's at, so let's make it happen! [Laughs]
What's his relationship with Rachel and Quinn (Constance Zimmer)?
Well, Rachel is the one producing him, so most of his interactions are with her, but he does have a few—how would I say this? He has a few run-ins with Quinn. [Laughs]
You and Shiri definitely work well together.
Before we started filming, Shiri and I sat down to talk about the characters. Darius is a good guy, and Rachel is always torn between good and bad. So they start to see that they are alike in similar ways, and you'll see that relationship progress.
RELATED: UnREAL's Constance Zimmer and Shiri Appleby Dish on Season 2
How will Darius handle his role as the first suitor of color on a show like this?
I don't want to give this story away, but I will say that there is a point in the season where Darius is going to stand up and take the reins. For his whole career, his cousin-slash-manager, Romeo (Gentry White), has been the point guy telling him where to go and what to do, and Darius at some point will take the control back.
How would you do on The Bachelor?
Horribly! I am so not this character, oh my God! But I am taking lessons from him on how to converse with females. I may even borrow some lines from the scripts and see how that works in my dating life. [Laughs]
UnREAL, Monday, June 27, 10/9c, Lifetime.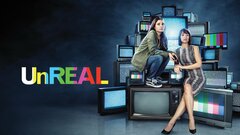 UnREAL
where to stream
Powered by