'Person of Interest' Bosses on the Penultimate Hour's Returning Faces, Losses
Spoiler alert! Do not read this post unless you've watched Person of Interest's penultimate hour, ".exe."
The penultimate episode of Person of Interest made major moves to set up the show's final hour—including killing off a long-time player.
Finch (Michael Emerson) infiltrated the NSA, with one mission in mind: destroying Samaritan—which would also mean sacrificing his own Machine in the process. He was apprehended before he could input the password to unleash the virus, and Greer (John Nolan) attempted to figure out whether his long-time foe had told anyone else the key to demolishing the artificial intelligences.
Greer ultimately determined Finch was too controlling to trust anyone else with a tool that valuable. To protect Samaritan, Greer locked himself and Finch in a room…and sucked the oxygen out of the room. Greer quickly died, but the Machine—thanks to help from Reese (Jim Caviezel) and Shaw (Sarah Shahi)—was able to help save Finch's life.
".exe" marked Person of Interest executive producer Greg Plageman's directorial debut (he also co-wrote the hour with Erik Mountain), and he had an unusual complication: he had to helm the on-screen death of his fellow executive producer Jonathan Nolan's uncle, John. "When I was encouraging you to direct, I didn't mean that," Jonathan joked to Plageman during the show's ATX Festival panel.
Related: The Person of Interest bosses on Greg Plageman's directorial debut
Leading up to the filming of the scene, John was asking, "The Governor call yet?" Plageman recalled, noting he was "looking for a reprieve."
"I think the most compelling villains are the ones that have a distinct point of view, that seems rational and logical to them," Plageman added. "In this particular instance…we thought it was fun the idea Samaritan has completely taken over the NSA. It's a belly of the beast episode, where Finch has to go in and deploy this virus. But the whole time, what Greer is trying to discern is whether Harold is the only one who knows how he can activate the virus. That moment when he realizes what a control freak Harold is—of course he would be the only one—he knows he's got it. If we don't leave this room, Greer's dream will come true."
As Finch was struggling with the notion of possibly destroying his Machine, he was shown the possibilities of what could have been if it had not been around. In the alternate reality, things were very different: Reese was dead; Carter (Taraji P. Henson) was still alive (and newly promoted); Root (Amy Acker) was alive and working for Samaritan; Fusco (Kevin Chapman) was disgraced; and Shaw was still working with the ISA.
Though Henson didn't appear onscreen in the hour, it was important for the writers to acknowledge what her fate would have been if things were different. "I think Carter definitely would have lived if she never met Team Machine," Plageman said. "What you didn't see, actually, is that we had a shot where we swung around, and on her desk, there was actually a picture of Cal Beecher; she was happily married…I think Carter's life would have been markedly different."
Related: The Person of Interest bosses on the final season's creative freedom
And though ".exe"—and the alternate reality storyline—was able to bring back a number of familiar faces, "there were so many other characters we wanted to bring in; there was a whole smorgasbord," Plageman said. "We wanted Annie Parisse, we wanted Michael Kelly. But there's an availability issue with some of them. We tried to focus on who were the characters that were defining—for our characters—in terms of the decisions they made, or [an important] moment in their lives."
"Obviously when you see someone who was killed on the show in the alternate reality, it throws you…it was weird, because it's not a flashback, it's an alternate reality," Plageman continued. "So I tried doing more saturated styles, closer eyelines on Harold, as well—to draw you in and draw you out. There were so many other characters we would have loved to have [return in this episode]. But the important thing was for Harold Finch to come to an understanding, because he had all this regret; he almost wished he hadn't built this thing. But the truth of the matter is, if he hadn't the world would be so much more f—ed."
Ultimately, Finch decided he had to take down Samaritan and said the password: Dashwood—referring to the sisters at the center of Sense and Sensibility. "Those long-time fans of the show remember the importance of the book when Finch proposed to Grace," Plageman shared.
Related: The Person of Interest bosses talk Finch's new path after Episode 100
Though Reese and Finch have been on different paths this season, when a fan questioned whether their dynamic would be revisited again, Plageman teased, "I think you'll be really happy with the finale."
"Or really, really unhappy," Jonathan added. "We have a longstanding tradition of getting people together again and it doesn't work out so well."
"I think that relationship has always been the heart of the show, whether it was on-screen or understood," Plageman said. "That was the start of this whole crazy endeavor. We tried to even service that at the end of [Episode] 9 when they're under the bridge; it's going to take all of them to take this damn thing down."
As for the CBS drama's final episode, "it was a chance for us to revisit some of those relationships we hadn't had a chance to get to before," Jonathan said. "It's a more emotional finale than I would have anticipated we would have had."
Person of Interest, Tuesdays, 10/9c, CBS.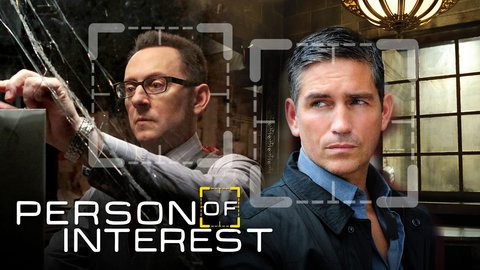 Powered by