'Good Girls' Cast on 'No More Workin' for the Man' in Season 3 (VIDEO)
The ladies are back and they mean business in Season 3 of NBC's Good Girls.
The series, which is set to return Sunday, February 16, will see Beth (Christina Hendricks), Ruby (Retta) and Annie (Mae Whitman) wrapped up in their own criminal activity once again. This time around, they've gotten wise to some of the best side hustles in the show and are running their own hustle with counterfeit bills.
In an exclusive featurette, Hendricks, Retta, and Whitman are teasing what fans can expect when the series returns following that wild finale last year."We go into Season 3 with the sense of relief because Rio's (Manny Montana) now out of the picture," Hendricks says of the women's headspace.
"They can start fresh and instead of going back to their normal lives, they decide to create their own crime empire," she adds. As viewers will recall, Hendricks' Beth shot Rio in the Season 2 finale, leaving him for dead.
"They make money but you get to see, this is how you do it, and anybody can do it — not that you should, but you could," Whitman jokes. And it looks like their pulling a new member into their circle — or at least trying to — with the addition of Charlyne Yi to the cast.
"This season, no more workin' for the man," says Retta. "This year, bitches are doin' it for themselves."
Don't miss the exciting sneak peek above, and make sure to catch their latest shenanigans when Season 3 arrives this February on NBC.
Good Girls, Season 3 Premiere, Sunday, February 16, 10/9c, NBC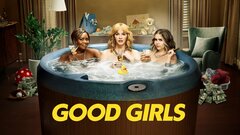 Powered by