Seth Meyers on Being Late Night's 'Mr. Nice Guy' and Why He Never Sees Jimmy Fallon
If late-night TV were high school, Seth Meyers would totally be voted Most Likely to Succeed. The brainy 42-year-old has spent the last two years injecting sharply observed political and social commentary into the comedy DNA of Late Night With Seth Meyers, earning critical raves and ratings along the way. (No Carpool Karaoke needed here: The talk show is the No. 1 program in its timeslot, in both total viewers and adults 18–49.) "Seth is an enormous success for us, not only in the ratings but as a comedy ambassador for this network," praises Robert Greenblatt, chairman of NBC Entertainment.
Citing the former Saturday Night Live head writer's "insightful" approach to dissecting world events and pop culture, Greenblatt goes on to hail the host as "one of the wittiest, smartest humorists—and we're so proud of the fact that he has made Late Night completely his own." (Meyers took over for Jimmy Fallon, who left Late Night to head up The Tonight Show in February 2014.)
RELATED: James Corden Switches Seats with Seth Meyers on Late Night (VIDEO)
Inside the Late Night offices at New York's famed 30 Rock, Meyers's young-ish, impressively diverse writing team and showrunner Mike Shoemaker—whom he's known since they worked together at SNL—share an all-for-one energy that sparks collaboration and random, hilarious bouts of ragging on each other. Needless to say, F-bombs are par for the course. Mostly aimed at the boss. "I think he likes being busted on," Shoemaker says.
But when it comes to his other loves, Meyers is just as unguarded, whether he's gushing about wife Alexi, newborn son Ashe and their beloved Italian greyhound Frisbee, geeking out over the myriad comic books that fill his office and inspired his Hulu cartoon, The Awesomes, or marveling at being the guy who gets to sit behind the Late Night desk. "That's one thing that is so much better than I thought it would be," Meyers confesses in between skit meetings and a dry run of the night's monologue. "I genuinely enjoy talking to people." Good thing, because we had a lot to talk about.
Of all the late-night hosts, you really seem like the "nice" one.
[Laughs] My parents would be very happy to hear that! I hope our guests feel as though they're treated well, by not just myself but the entire staff. We take what it means to host someone very seriously.
See? Mr. Nice Guy! You also try to stay on the right side of mean, even when tackling the political madness of this election.
Yeah, we've dropped good jokes that were a bit too much. We try to be pointed without being unnecessarily cruel; we criticize people's actions as opposed to who they are as humans.
So what was your goal with the show when you launched?
I wanted to combine smart and silly—to create a place for both. Even at SNL, we tried to be the smart take on dumb. I want to do things that are fully inspired by whimsy and lunacy as opposed to just trenchant social observation.
Watch Seth talk about his dog, his baby, and keeping a straight face with Fred Armisen in our video interview:

What do you dig the most about your job?
Performing. It's getting ready for the performing that's stressful.
Is that true of your other hosting gigs, like the ESPYs?
The ESPYs were a lot of fun. No one cares if they win or lose, so it's a loose house the whole time. The White House Correspondents' Association dinner was such a blast in that it went well. The actual doing of it was not a blast. [Laughs]
And what about the Emmys, which you hosted in 2014? You're the go-to guy!
With those awards, you're such a victim of the kind of year TV had. I knew going in there were probably going to be no new winners, so it felt like sort of a repeat. Also, it's ultimately not that much fun to walk out on stage with the first four rows being huge stars! [Laughs]
Late Night is the rare talk show that features eclectic guests such as author Noah Hawley, DC Comics' chief creative officer Geoff Johns and even your own family.
[Laughs] Once you get past the usual A-listers…you can get creative. That's where a host can define their own tastes a bit.
You've obviously had stars on who are good sports, like Norman Reedus in that now-infamous "Audience Zombie" bit. Who has been your worst guest so far?
It happens so rarely and I don't want to talk about it in a way that somebody might go, "Wait, is he talking about me?" So I'll give you a type of guest. I would say that there are those people who surround themselves with a certain crew, and that their crew or their support staff laughs at them a lot more than they probably should, and so when the guest comes out and they're not getting any traction with the audience—you can just see it in their face, like, "Wait a second…"
Who is your dream guest?
Rihanna. I would really like to talk to her. She's just fascinating.
RELATED: Seth Meyers: It's Getting Tougher to Write Donald Trump Jokes
Do you think your interview skills have gotten sharper?
I've learned to have less of a plan. I let the first minute or two of the interview happen. Some people, like one of my favorites, Joan Rivers, just need a few words to tee them up. I wasn't there to engage with her. I was just an audience member who happened to be sitting behind a desk.
With Jimmy Fallon as your lead-in, do you two ever talk about being NBC's tag team?
It's so weird how little we see each other! When his show's taping is over, we're just starting. A few weeks ago, we wound up on the same elevator and basically laughed the whole ride about how we never cross paths.
Fallon has his party games, James Corden has Carpool Karaoke. Do you feel a pressure to create some trademark viral hook?
If there was something I thought we could do that would be that popular, I would not be upset. [Laughs] But it seems almost unfathomable that we'd be able to find something like that that would fit my skill set. I think people watch us because they like our interviews… those you can't viral out. A lot has been written over the years about the competition within late night, and I feel like now, with so many channels and options, my only responsibility is to focus on the product and make it good.
Well, according to the ratings, you are doing something right.
We've gotten better. Our stinkers definitely don't stink as bad.
Do you watch any of the other late-night shows?
Now and then. I think it's healthy to watch someone else, because one of the downsides of only seeing the [viral] material is that you're only seeing everybody's A stuff. But I certainly don't want to come home and make my wife watch another man's talk show. [Laughs]
Samantha Bee and Chelsea Handler are the only ladies in the late-night world. Who would you like to see enter the ring?
There are so many women who'd be great. Chelsea Peretti [Brooklyn Nine-Nine] has a unique voice. Kristen Schaal [The Last Man on Earth] would be fantastic.
You landed nearly all of the presidential hopefuls except Donald Trump. Why?
We had him on the books, but he had to cancel for a reason well within the realm of why candidates would cancel, so we didn't take it personally. Since then, I've gotten the sense that he doesn't need to come on my show. [Laughs]
Late Night With Seth Meyers, Weeknights, 12:35am/11:35c, NBC.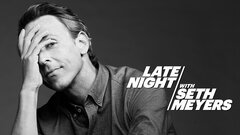 Powered by